And by real, I mean with a daiza. I had picked up a few stones from creeks during hiking, but this one came from my friend Bob Carlson, a member of the California Suiseki Society. I was collected in the Russian River in December of 2008. I won it at the holiday raffle soon after.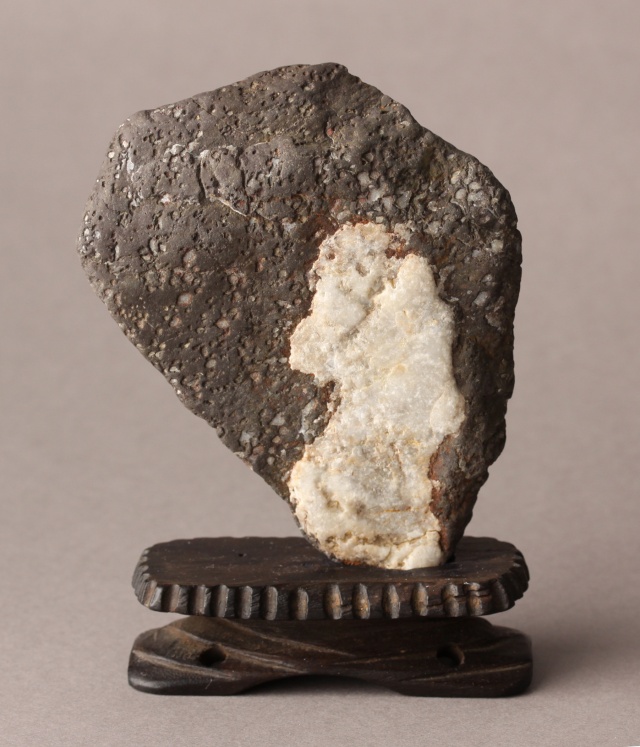 I'd be interested to know what others think.
Eric
Hi Eric... I've always been especially attracted to dark stones with repeated surface texture that authenticates an original, unprocessed surface. If the pock marks were small dashes in shape, it would be called "rice patterned." I've seen a variety of textures referenced as
sudachi
, which is often described as "pock-marked" but perhaps most authentically references a stone that looks to be rotted on parts of its outer surface. The rotted area often does not, but can, expose a harder "rind." Jim Greaves wrote a nice summary of textured stones (and difficulty in categorizing them because of varieties of interpretation) for a
California Aiseki Kai
article published while he was traveling to the East Coast this fall.
I can see a number of figures (human or animal) as well as a hanging cliff form, in the clear white matrix pattern rising from the stones base (in the configuration as mounted). It would look great among stones in Potomac Viewing Stone Group exhibitions or among Jim Greaves "Beyond the Black Mountain" exhibition. There is less room for the stone (& especially its mounting) in exhibititions promulgating strict suiseki style such as California Suiseki Society's or California Aiseki Kai's annual club exhibition. It is a nice viewing stone with an unexpected, interesting mounting.
Pattern-stones are collected and displayed in suiseki exhibitions in Japan. Among landscape-view suiseki highlighted in Japanese exhibitions, a pattern adding interest to the landscape is often noted. Your stone has the capacity to hold moisture close to its surface. If not a landscape-view stone in contour, it is not an appropriate candidate for suiban placement in suiseki-only exhibits, where water is normally introduced and moist surface is appreciated, even if the stone is not externally wetted.
Landscape-view suiseki with rising dragon (pattern) owned by Imperial Princess (loaned for suiseki exhibit in Kyoto):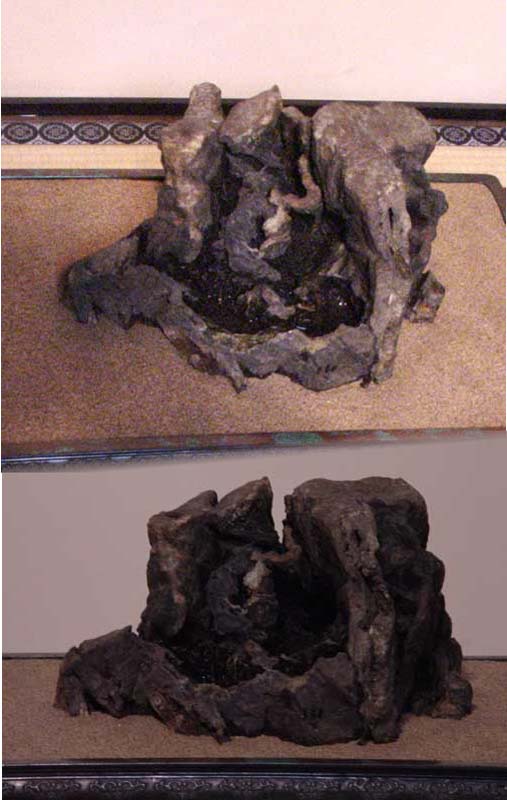 Landscape-view suiseki with religious figure (pattern) in cave owned by late 18th/early 19th c. literatus Rai San'yo (from Tokyo exhibit):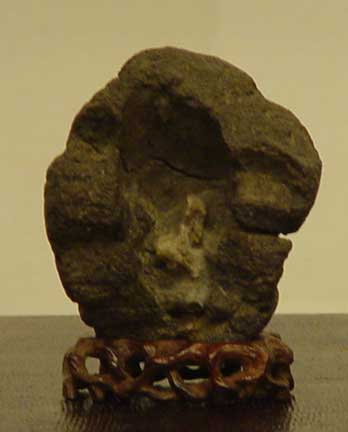 Hope that helps. I like your stone.

Chris Cochrane

Member





Dunno why, but I only get 1/3 of the picture of Eric's stone. I get both of Chris' pics.

I've returned here, I've refreshed, and I get the top 1/3 of the stone.
_________________
Jim Lewis - lewisjk@windstream.net - Western NC - People, when Columbus discovered this country, it was plumb full of nuts and berries. And I'm right here to tell you the berries are just about all gone. Uncle Dave Macon, old-time country musician

JimLewis

Member





It's a Santa Claus picture stone

Imagine an emaciated Bob Cratchit (or Tiny Tim) in nightgown & a soft, pointed nightcap falling past his front left-shoulder. The figure awaits news of Scrooge's change-of-heart. It could be a shoe-in for the "Winter Anticipating Spring" (including rising expectations for the New Year) viewing stone exhibit now in DC.
We interupt this podcast for an update of expectations in 2009...

Last edited by Chris Cochrane on Wed Jan 28, 2009 9:27 pm; edited 1 time in total

Chris Cochrane

Member





Hi Eric,

What a great start for your collection of viewing stones. The pattern on the stone is obviously a happy elder who, you could assume, is trekking up a mountain path. The daiza is interesting but to me a bit distracting. The very bottom seemed to indicate natural rising movement but the cuts in the platform suggest a "motor cog" and not seen in nature. The daiza carver is creative which to my view is commendable but with a complex stone that to my eye would seem traditional the daiza should be more restrained.

I'll be eager to see what you have collected on the Russian River.

Norma

Norma

Member





Thanks everyone for your replies. It seems that the figure shape is open to wide interpretation. As for the daiza, I like the one that Bob carved for it, but I could see it looking good in a much simpler one as well.

Eric

---
Permissions in this forum:
You
cannot
reply to topics in this forum