We are currently renovating the Gardens of a Historical house, 7000m2 of GARDEN!! Most of the plants were planted between 1904 and 1912
Sadly a couple of the old plants needs to be removed, and gladly be transformed into glorius bonsai, with YOUR help ofcourse.
Here is the first a Bougainvillea, She's a monster, had to dig her out with a Diggy loader.
What to doooooo?



Andre Beaurain

Member





pic does not seem to be here

edit - now they are there nevermind
Last edited by cbobgo on Sat Jun 30, 2012 7:17 pm; edited 1 time in total

cbobgo

Member





Wow!! What a beautiful thing after all that time.
How lucky do you feel?

Good luck with your progression, and keep posting pictures of what follows.

Jesse McMahon

Member





Wow

what is this monster size!!!

pongsatorn.k

Member





Andre Beaurain wrote:
What to doooooo?

Leave it alone for now.
The uprooting and transfer must have stressed the tree.
Let it grow freely for some time.
I dont know where you are potting this monster, but the roots system dont seem that tough from the pictures.
Let the root ball toughen some more before doing more work on the tree.
Seems like you're in SA, sun must be hitting hard, so keep your soil medium moist too.
Try to avoid letting it go dry at all if you can. Dont overwater [ sluggish soil/substrate ], just keep it moist.
Good luck
Xavier

Xavier de Lapeyre

Member





Jesse, I do feel very very blessed, and honored to look after these plants for a while and hopefully turn them into bonsai.
Not only did we resque the Bougainvillea, but what do you think about this, Pong...
But there is also a Wisteria form pre - 1912 and a incredible Dark Pink HT rose from the same period.
This is the Wisteria. Also a big Monster, dont know what the hell I'm gonna do with this??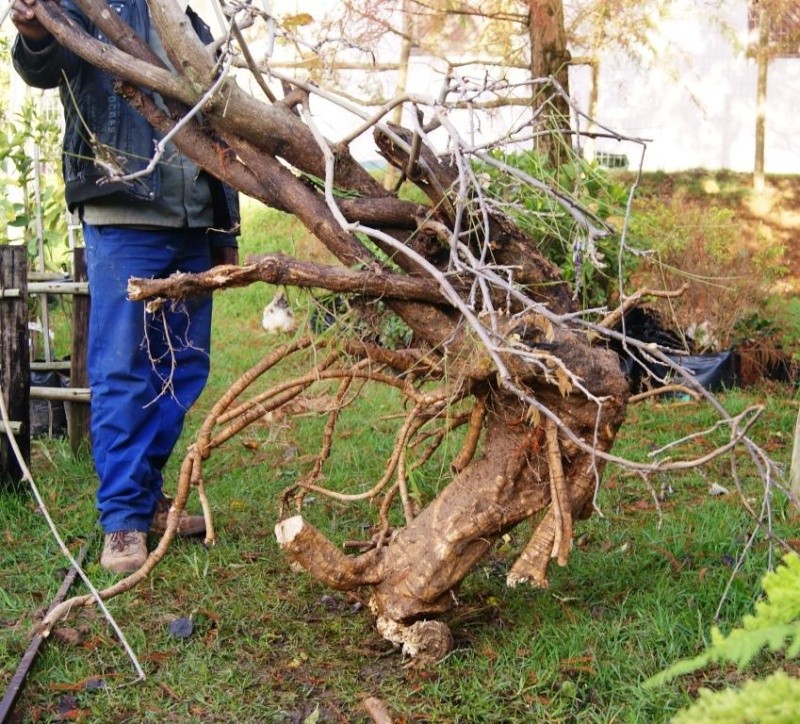 The Rose, The centre Growth has now been removed, as I realized that it was the Wild Rootstock that grew. The stump is huge!!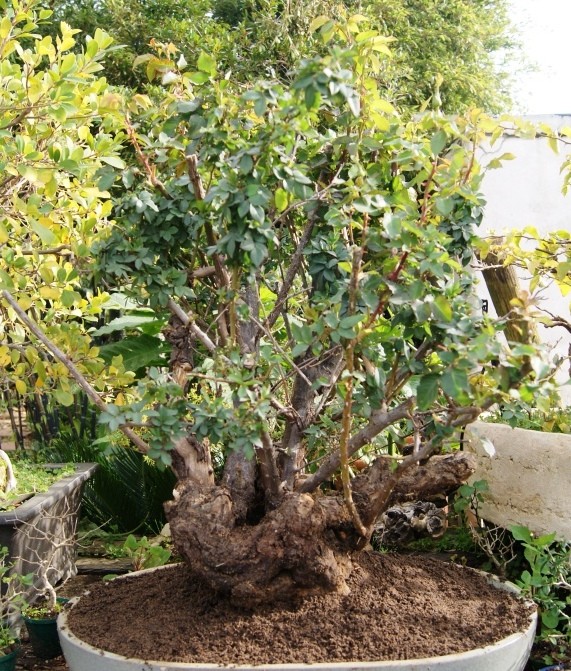 Xavier,
Thanks you so much for you advice. The bougainvillea is planted and well watered in this rainy weather, I go to her every day to see if I can spot any swelling . I'm not worried about Her. She'll live. I will not touch her for the next year ..promise.

Andre Beaurain

Member





Did it live?

Cheers

Brendan
Thanks Brendan

Yes of course it is still alive, but loosing alot of the bulk of the tree. Its seems that deadwood is not the thing for Wisterias and the top bulk of the branches rotted, I cut it back hard and is now a very short stout tree, but rot....ooo dear lord.

Its like bougainvilleas, eventually the inside will rot out if you expose dead wood..... and then?

Will post pics soon..

Love and light

Andre Beaurain

Member





Nice tree to work with, any update??
andreas - andre may not see your question...
i just got an email from him and a very large landscaping job has taken him away from home for a long period of time.
_________________

AAC Original Milwaukee Wi. Chapter - North America
aka beer city snake
link to ARBOR ARTS COLLECTIVE BLOG

kevin stoeveken

Member





Ok, will wait until he is back, thanks for letting me know.

---
Permissions in this forum:
You
cannot
reply to topics in this forum