I collected this spruce (possibly Little Gem or Birds Nest variety) over 2 years ago, and am just now at the point of starting to work on it. There was die back of some of the lower branches, and some of the top the first winter after collection.

It is now healthy enough to consider doing the first basic styling of it, and to begin working towards the goal of an actual bonsai.

The canopy was quite dense and shaded out the lower branches killing them off, so during a club workshop last weekend, the tree was thinned out and dead foliage removed. As can be seen, most of the foliage is concentrated on the branch tips.

My next task is deciding on a style. I had always seen this as almost a broom style as the foliage was always so full and rounded. I did realize I would need to wire the branches down to fill in the spaces, and begin a regime of pinching to try and force back budding to get better overall branching.

However, as was pointed out to me, the lower major branches are essentially bar branches. It was suggested that one whole branch be removed.

Posted are several photos of the tree.

I would welcome any suggestions anyone can offer.


http://www.flickr.com/photos/11257201@N04/3744535086/

http://www.flickr.com/photos/11257201@N04/3744535088/

http://www.flickr.com/photos/11257201@N04/3744535092/
Last edited by duane1 on Tue Jul 28, 2009 3:48 am; edited 1 time in total (Reason for editing : trying to get picture to display)
Yes, that branch must go. But I wouldn't change the angle that much, I don't think it suits the shape of the trunk. I'd try something like this: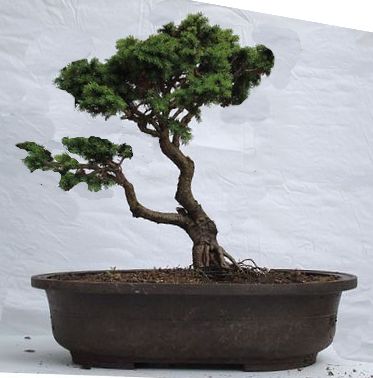 or maybe a windswept: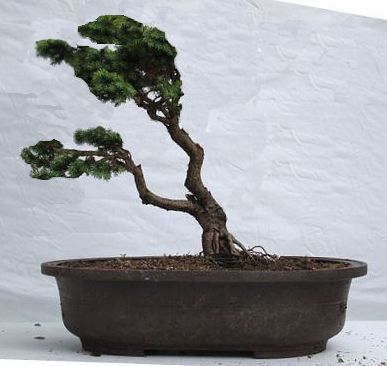 (very rough virts, the foliage needs to be opened up more and the shape refined better than I've shown.)
Cliff:
Thanks for the suggestion as that seems to be a direction that would be appropriate for the branching.
I did an even rougher virt (only have ms paint to work with) of what I personally always envisioned for the tree. It allows me to keep all the branches, and by changing the potting angle even seems to eliminate the bar branch effect. It made the best use of the tree, I thought. ( But please fell free to chime in and correct me. )
duane
It's ok with that branch removed, but I thought it was quite nice looking with all 3 branches. The top would need to be pulled in considerably, but that should not be a problem and would actually help make the trunk look larger.
_________________
Jim Lewis - lewisjk@windstream.net - Western NC - People, when Columbus discovered this country, it was plumb full of nuts and berries. And I'm right here to tell you the berries are just about all gone. Uncle Dave Macon, old-time country musician

JimLewis

Member





I had someone whose opinion I respect, suggest to me the option of layering new roots higher up the trunk and growing it out as a triple trunk style. It was an idea I had pondered but wasn't quite sure about.

Would this be an option to consider as well?
You could certainly consider it. It can be layered, but I think it would form more of a raft style, with the almost horizontal arrangement of the branches. That is actually a good option as raft style trees are relatively uncommon.

_________________
"It is not the strongest of the species that survives, nor the most intelligent. It is the one that is the most adaptable to change." - Charles Darwin.

Kev Bailey

Admin





---
Permissions in this forum:
You
cannot
reply to topics in this forum