I entered 4 trees in the show this year. I would appreciate any comments or suggestions. I am kind of new at showing trees.
Thanks,
Mike
Barberry "Concord"
Black Olive - bucera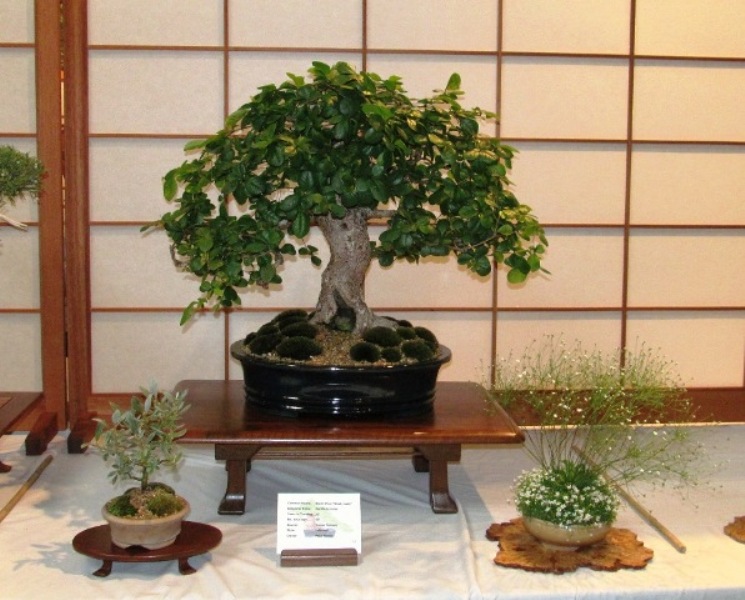 Lantana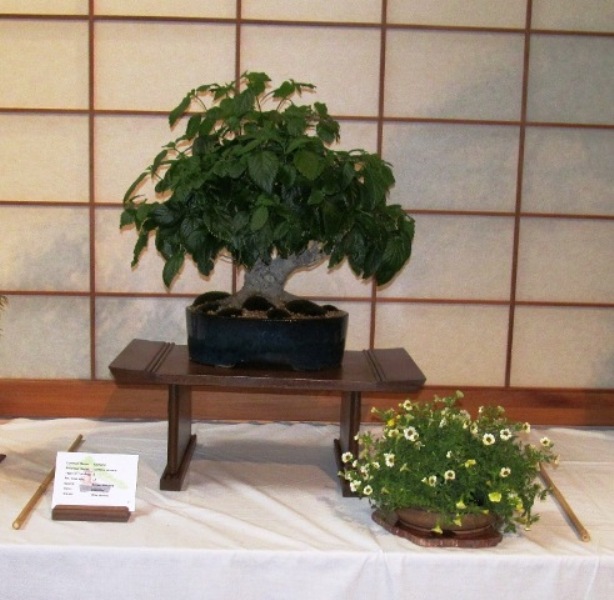 Lavender Star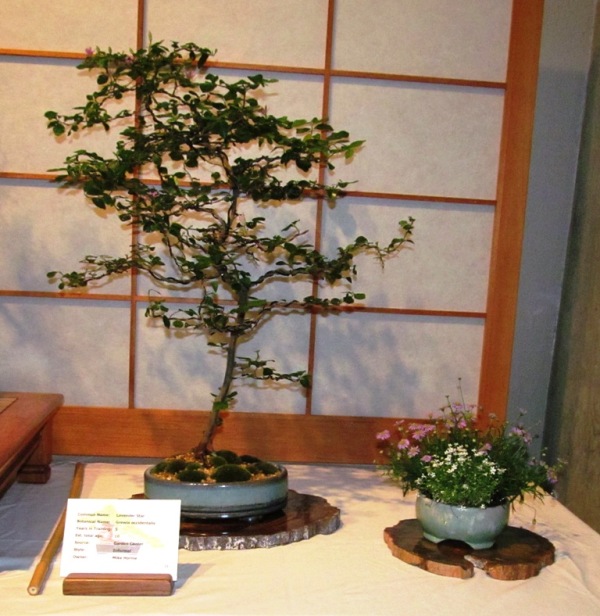 Last edited by Lost2301 on Tue Jun 19, 2012 6:37 pm; edited 1 time in total

Lost2301

Member






Poink88

Member





My comments.

#1 needs styling. It's just a bush in a vase.
#2 is a nice tree. The little blobs of moss bother me.
Ditto #3.
#4 is too tall for its girth and has too much canopy. I think you will find yur bonsai in there if the top 1/3 were to vanish and the canopy were to be thinned out.

BUT, all in all, probably much better than my first venture into showing trees. (I'm glad that's 35 years (at least) behind me. <g>)
_________________
Jim Lewis - lewisjk@windstream.net - Western NC - People, when Columbus discovered this country, it was plumb full of nuts and berries. And I'm right here to tell you the berries are just about all gone. Uncle Dave Macon, old-time country musician

JimLewis

Member





Mike,
The lantana and black olive got a good future. If I were you I would concentrate on the two, in preparation for your next participation in a show. the other two needs more time.
...you said you are new at showing trees, Do you mean in an exhibition? Not too bad if this is your first time...and very brave of you. on the display itself, I find your accent plants too dominant, Some simple suggestion for the accent plants if you may- It should work hand and hand with the main tree and not to dominate it, It should reflect the theme of the main tree. for example, a particular season that the tree represents or environment which the tree tries to emulate, color of the main tree and character of the design etc. For me it's main purpose is too enhance the image and feeling/mood that the tree wanted to convey on the viewer.
...After the show can show the individual trees for us?
regards,
jun

Jim,
Thanks for the response. Some people see a bush and some see a tree in photo #1. The tree was selected to be in ABS/BCI 2012 International Convention held last week in Denver. Ryan Neil and Marc Nöelanders set up the show and it was really interesting to watch them. They sometimes used another persons stand with a different tree. Most the of access plants were not used with the trees the came with. I asked Ryan about the Barberry and he said he was glad it was in the show. He liked the composition of the tree, pot and stand. He also said it needs to be shortened and it has to many branches. The moss is growing together and should look better. Someone asked Ryan about moss at the ABS/BCI show and said trees should be covered with moss. He gave several reasons for it. Tree #4 photo is not really to good. I was looking down at the tree, but you might be right on with it being to high. Its time to let it grow some more over the summer. I have tortured it enough for the year.
Jun,
Thanks for the reply. Yes, I am new to Bonsai. I showed the Lantana at last years show. It was blooming then, but it was very leggy. I was trying to reduce the foliage and have it bloom at the same time. It was blooming right up to the time I fertilized it. Then it stopped?
This is my third year really doing anything with Bonsai and my second year showing some trees. It was also my first attempt at access plants. I recieved many complements on them from fellow club members. I have taken workshops with Bonsai masters: Kathy Shaner, Ryan Neil and now Dan Robinson. All of them are really good. We also have some really great local club members who work with us new comers. They are very patient with me and my disablity. I forget what people just told me and have to be told again. Remembering things to do is hard, which is why I am late with a response to the thread.
I will post photo's of the trees latter. Attached is a photo of the Barberry at the ABS/BCI show.
Mike
2012 ABS/BCI Show - Barberry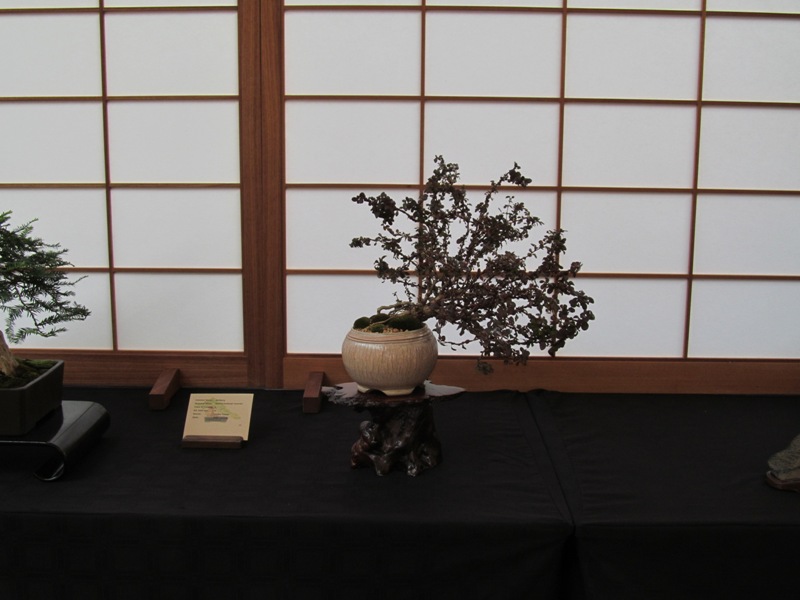 Lost2301

Member





....well there you have it!..


Andre Beaurain

Member





i like the way you are new to the bonsai hobby and you are bringing your new ideas to the displays. it is funny that the 2 most 'ordinary' trees are the ones that people here liked the most

i like tree one - with some thinning between the branches it will always be an interesting tree to exhibit.
2 & 3 - nice, normal trees, but as you will already know there are 100's of similar trees used in shows so they tend to all blend together (until well ramified and shown with no leaves - then they get the wow factor back)
4 ? i dont see more than a garden center plant in a bonsai pot at this moment in time - but dont let that stop the creativity at all - it is mostly the top heavy look that is making it hard to see a tree like form.
accents are becoming better and better these days - you can add so much to the display with them to suggest the season, the location etc. done well it completes the story you want to tell about the main tree.
really good to see your ideas, thanks...do you get to choose the trees put in the show or are they selected?
best regards Marcus

marcus watts

Member





Hi Mike
You have some nice trees to begin with.....and now you enter the fun of exhibitions

.
I will not talk about your trees, or the pots you have for them. Only your displays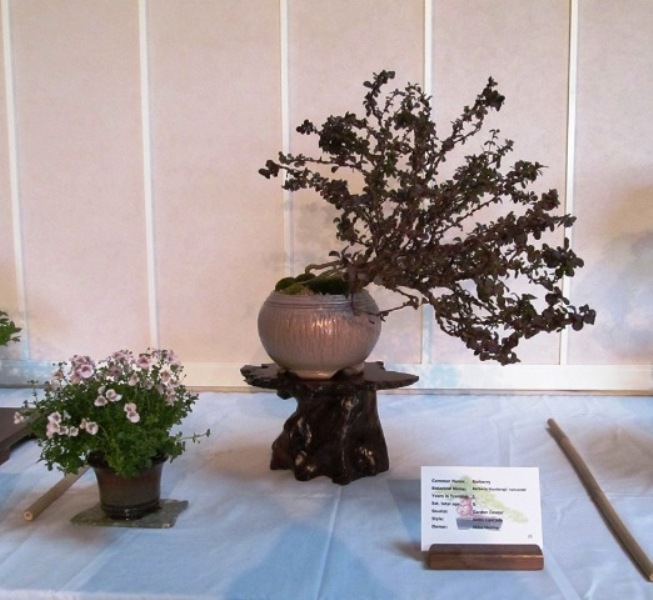 The stand for the tree is nice, and not heavy....the small plant should stand to the other side, to let the tree and plant face each other.
The small plant is better placed in a low pot.....more space between tree and plant is better.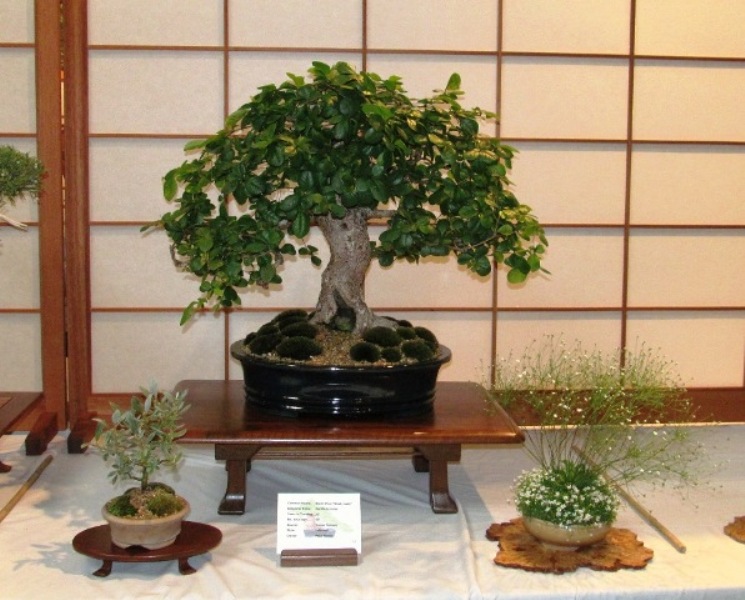 This display would have been better if only the plant to the right was used, a good haircut would have to be done, to keep it in perfect sice. The plant should be placed to the left....with more distance to the tree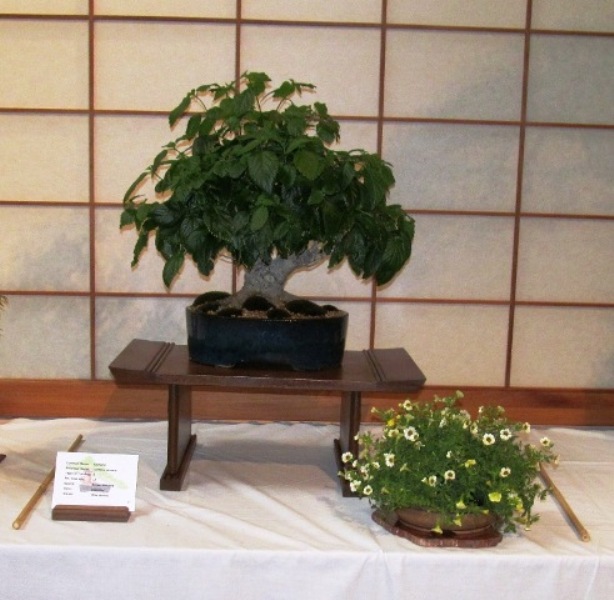 Wth this one, is the small plant a little to big, and too close to the tree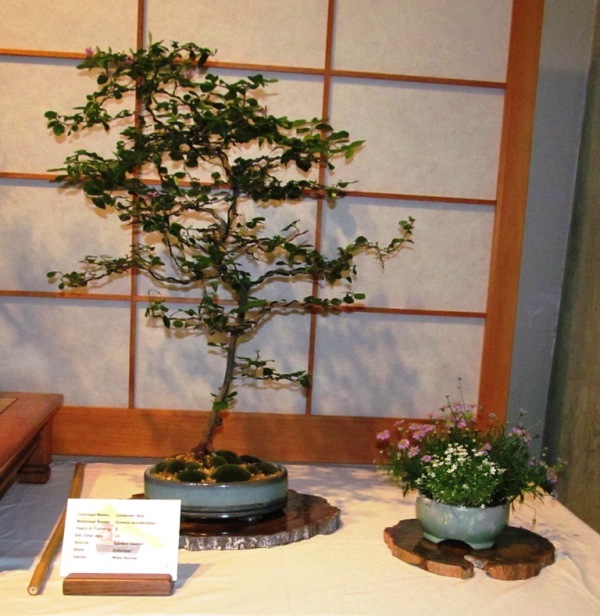 With this one, would I have placed the plant to the other side, and left out the jitta under the small plant, as the two stands have the same high, this is not nice.....In this case is it better just to place the plant right on the table.
Othervise is all your stands and jittas very nice and elegant with your trees and plants

This is ofcourse my IMHO, other people might tell you something else.
Kind regards Yvonne
Marcus,

Thanks for feedback. The trees for the ABS/BCI2012 show were all selected by a commitee.

Yvonne,

Thanks for your feedback as well. I must admit that I was not thinking about the placement of the accent plants. I was just happy to have some. There was not much room for them on the display tables. There were to many trees at the show, space was limited to spread them out. I did not show an accent plant on last years Lantana.

Mike

Lost2301

Member





Hi Mike

I know there is some times too many trees, in a too little area, and this is the committe who decide that....but i wanted to mention it anyway...Had I been in an exhibition with so little space for each tree, would I not have used a accent plant.
If an acces plant is used, is it, together with the tree, just as important as the tree itself.

Kind regards Yvonne
---
Permissions in this forum:
You
cannot
reply to topics in this forum