hi everyone.......I'm confused

patina??? are we talking dirt ? algae ? grime ? stains from dirty water and fertiliser or some actual physical aging process of the glaze from UV light ?

i hear it can be washed off, so it must be a dirt ? does oiling the pot for show help or hinder the effect ?

i had a lovely cream pot that looked like black coffee stains - it was certainly aged but no use as a cream coloured pot anymore

thanks for any observations or feelings you have on the holy grail of pot patina

marcus

marcus watts

Member





Patina is a buildup of all those things. Microscopic particles of dirt, fertilizer, organics, all oxidized over time. I don't think light plays a large role, as I've seen pots that were exposed but not used that looked virtually new, maybe slightly faded. To my knowledge no one has done a chemical analysis of patina, so this is merely an educated guess, given the circumstances that create it.
As to use, I guess it really depends on what you're asking the pot to do, whether or not patina will be suitable. If you need a brighter cream color to offset bright green foliage, or complement buff pale bark, maybe not so much, bit if you're looking to accentuate the age of the composition...no better way!
Ryan
http://japanesebonsaipots.net/
To me, patina is what happens to an object when you handle it for a certain period of time. Such as a wooden handle that gets really smooth from all of the times someone opened the door or marble steps on the stairs in public buildings that are a bit worn down where people tread the most. Usually, the wooden handle will also have a sligthly different color from all the hands that have touched it and the stairs as well because of all the dirty shoes. However, in my book, it will take some actual restoration to remove that patina. If it comes off from a proper rinse with a soft brush and some hot water it's not patina, it's dirt. Also, a ceramic piece doesn't develop patina in 10 or 20 years, it takes a lot longer than that.
Here's a piece of Swedish late 19th century pottery. It basically looks almost new but there is a general age related crackle in the glaze and about 120 years of wear to the base. Again, I have no problem giving this a proper washing up.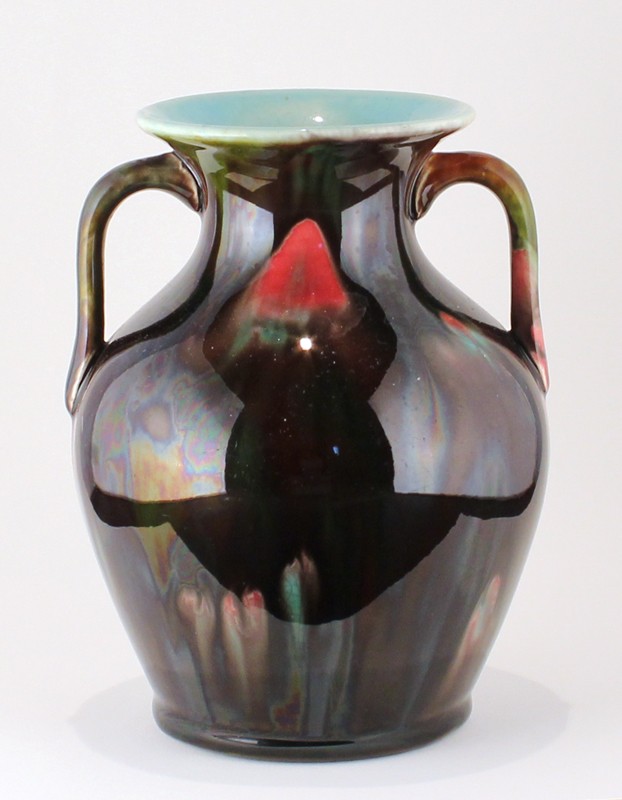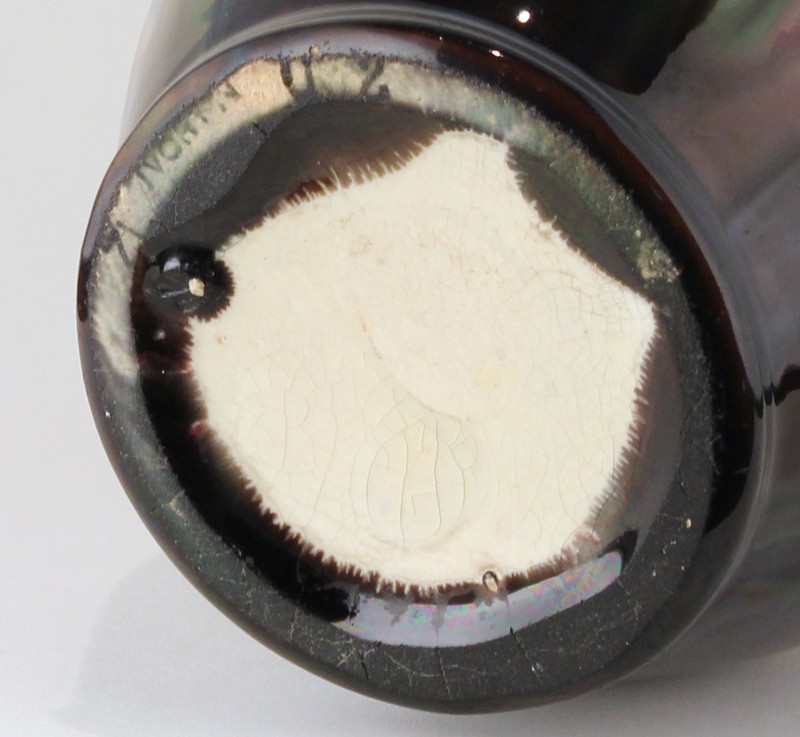 Another and perhaps better example. This Kinkozan pitcher dates from about 1885-1900. Look at the crackled glaze, but more importantly, look at the handle and how it is darker compared to the rest of the object. That comes from more than a hundred years of grease and dirt from the hands of the people that has used it. The dirt has worked its way through the crackled glaze and it is basically impossible to remove it (there are a few tricks but lets not go there).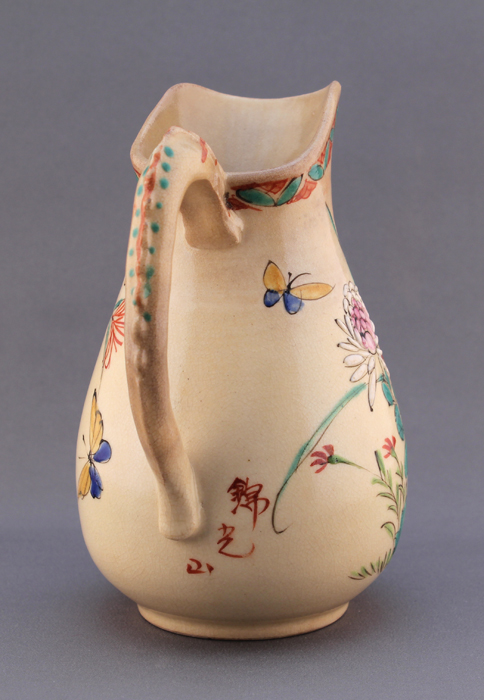 My point is that even if I use hot water, a soft brush and modern detergent on this piece it would still look the same because it has patina, it's not dirty. That is how I see it anyway.
Best Regards
Emil
Those are goo points related to Patina in general, Emil. You are correct that patina wont come off withoutsome serious scrubbage, and is more than just dirt. The definition amd the appearance varies, however, depending on the material and the usage, copper patina is a totally different substance from ceramic, and household patinate at a much different rate, and in different ways, than outdoor items and bonsai pots. I own 2
15-20 year old pots that have some decent patina from being used virtually everyday of that period, and verifiably 120 year old Chinese pots with none. Bonsai pots that are planted patinate much faster than household items, and a good patina isn't an indicator of great age.
Marcus, to answer your questions about oiling for show, it won't increase the amount of patina, but a super light run with oil brings out depth and richness of color, in both the patina and the natural colors of the pot, plus, it will temporarily disappear lime scale....win win.
Om the other hand, if you want patina to build on your pots, oiling them weekly traps small particles and patina builds faster, and, as an added bonus, lime scale won't accrue in the first place, another win win.
Ryan
http://japanesebonsaipots.net/
Hi Ryan!

It is true that the definition of patina is contextual and depending on material. It is interesting though that a "regular" piece of pottery (such as the ones I showed) or even ordinary antique flower pots would fetch a higher price at an auction if they look as unused as possible while the opposite is (perhaps?) true when it comes to bonsai pots. I'm guessing it has to do with different cultural backgrounds, both in a philosophical (wabi sabi) as well as an esthetical sense and perhaps the symbolic potential of bonsai in general?

Best regards
Emil
There's definitely a cultural aesthetic, and I wouldn't say that that Kinkozan is "regular" either. Kinkozan bonsai pots are nice and high priced(not sure if this is the same Kinkozan)!
A bonsai pot with patina will always be more valuable than an identical pot without it, except in very very rare cases of very popular potters, whose work has been almost exclusively used, wherein a completely pristine, unused one will be rare and correspondingly more valuable, such as Tofukujis and Tsukinowa Yusens.
The reason for this is simple. At a minimum, the Japanese hold the view that a tree should be in a pot at least as old as it(or at least APPEAR as old as the tree). It should look like the tree was raised its whole life in the same pot. Abother wonderful illusion in an art composed of illusions!
Ryan
http://japanesebonsaipots.net/
Last edited by Ryan B on Sun Jun 17, 2012 2:17 am; edited 1 time in total (Reason for editing : Forgot sig!)

peter krebs

Member





thankyou all for the answers - and especially thanks for the link Peter - truely the guide to patina I was looking for. I'm off out to rub my pots

I may get 3 wishes !
It is very interesting because I am observing more discolouration with my organic powdered fertiliser bags on some pale pots (than I ever had with chemical fertilisers), and i can see the combination of organic oils and the acids from the hands will add to the effect. What are the acids in our hands ? I'll have to do some biology homework.
cheers everyone for the insight into bonsai and non bonsai patina
marcus

marcus watts

Member





I would like to help in any way I can:
Patina on ceramic is applied to the surface treatment of the piece before entering the kiln (I speak of ceramic treatment, not cold patinas). They are available with a wash of oxides and other methods.
The patina of time in a container depends on fertilizers, hand oils, oils, dissolved minerals ... even their reaction with the materials that make up the mud. It also influences the porosity of clay: + porosity + accumulates rapidly patina. So the pieces fired at high temperature are more difficult to accumulate patina as they have completely closed the pore
regards
An example of washing of iron oxide:
[img]
[/img]
other patina (copper+alkaline frit)
[img]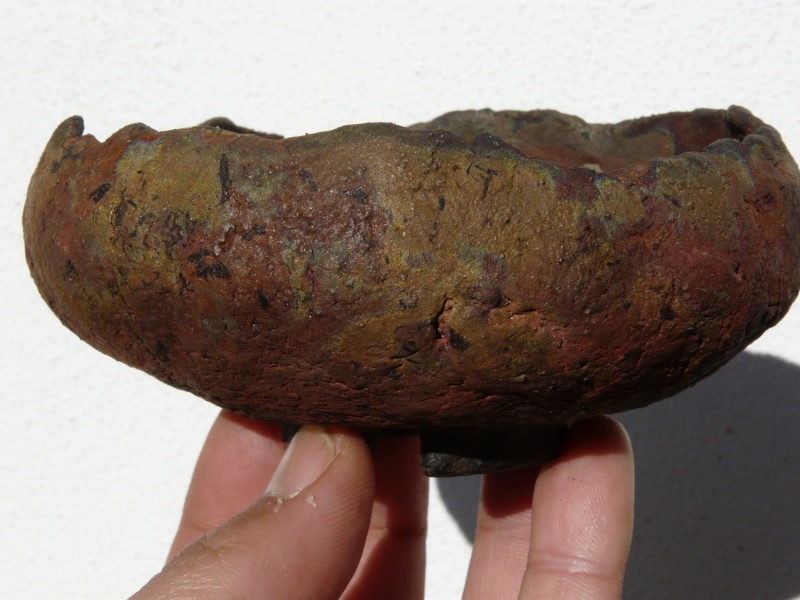 [/img]

planetabarro

Member





Peter, thanks for the link!

_________________
"Eschew obfuscation"

John Quinn

Member





Let me add some thoughts based on my knowledge and understanding of clay and glaze chemistry. First of all, it is important to understand that most fired pottery material, whether glazed or simply unglazed but fired clay is at least partially soluble in water. That's right, it slowly dissolves in water. That rate of dissolving increases in acid environments. On the other end of the spectrum is water glass, i.e. sodium silicate, which is highly soluble in water. Simply being fired (even vitreous) and/or glazed does not totally make common glazes and pottery bodies insoluble in water or other solutions. This may come as a shock to some, but many copper green glazes leach quite high levels of copper. This becomes a health issue if the leachate is a high-enough concentration, both for people and I would presume some trees. At any rate, don't discount this solubility in highly influencing what we call patina. It can change surface colors, can change the degree of gloss or matteness to the surface, can change the porosity of a glaze layer which in turn influences it's porosity to other materials...oils, "dirt", etc. If you want an extreme example of "patina" on a glass surface, look at Roman glass which has been excavated after centuries and centuries. It is beautiful to my eye, but is not at all what it looked like when "new". It must be understood too that artists/potters have always used the tools of etchants, acids, metallic salts etcetc in addition to abrasion/sand-blasting in addition to glazing/firing to achieve a certain look. But time has a way of changing everything, doesn't it? Warm regards all...

timatkinson

Member






---
Permissions in this forum:
You
cannot
reply to topics in this forum