Hello from a lurker. I have been doing bonsai for a year, and with the help of IBC and a few books, i have been able to learn a lot about the care and maintenance of bonsai. (all prebonsai or seedlings in my case). Being that a large clump of my aspiring bonsai is so young, or nature grown, it is necessary to begin the shaping of the roots in a more lateral fashion. I have finished my finals week, and my brain may be a little fried, however I can't find any information on it. I was curious if anyone could tell me of a site, or discussion that went over the process of converting tap root into more of a lateral root mass. Any help would be much appreciated. Thanks in advance, and sorry if there is a discussion already available. I could not think of any search phrases that came up with successful results.

P.S. i'm in the process of writing an introduction so you all can get to know me a little better, as well as become more of part of your great community. Thanks again.
hi and welcome,

it really depends on what roots your material has at the moment but the tap root - ie large thick downward root, is cut off at an early stage and it is the circle of new radial roots that are developed into the flared roots you are hoping for.

heavy root pruning like this is only done in early spring, and only if other roots are there to keep the tree alive. you may need to reduce a root like this over many years if other roots are lacking - An ancient common juniper I have just secured has been recieving root training for the last 6 years to make smaller compact roots that can support the tree - and in those 6 years the branches and trunk have not been touched.

a picture may help

cheers Marcus

marcus watts

Member





Hello and thank you for such a quick reply. I know that root work is best done around early spring, and is species specific. I have several different species that are going to have to be convinced that they would rather grow lateral roots. My question is, when I collected them, or planted them after growing them from seed the majority of them have one single tap root where the majority of the root mass is, and then very short thin fibrous roots coming off of those. There isn't much of any other growth to work with. Does this mean that over the next few growing seasons i'll have to take off sections of root and hope that it will "branch" further up the remaining tap root?

Most of the trees that i have with tap root issues are probably in the range of seedlings. All of these are within a year of age, so the tap roots are just tiny little whips almost.

That Juniper sounds like it must be a pretty amazing process. I have one yamadori Juniper that was collected this winter. If i may say so is a fairly ugly sight at the moment. It has a swarl about 3-4 inches up the trunk, and then branches going every which way. It had a huge tap root, and also 2 hard woody roots. I originally had it in a a high akadama content soil but read somewhere that they needed more drainage so i changed the soil composition. It was surprising how much new root growth there was even during spring time.

I know pictures are generally requested, but i was not sure what i should take a picture of since we were talking roots. Is it a good idea to expose them to take a picture?

Thank you again for the quick response.


hi,
no need to expose the roots as your explanation was perfect.

luckily seedlings and saplings are quite tough and forgiving but you must start reducing the tap and downwards roots to encourage laterals before they thicken too much. if you start a seedling again cut the root very short after a few weeks, then you get radial roots of equal strength but with these trees i'd remove all the tap root that is below 2 or more of the uppermost little side roots - done at the correct root pruning time the side roots will develop to support the tree as it wakes up. more lateral roots will form above the cut too. this reduction may continue on subsequent repots in future years too.

cheers Marcus

marcus watts

Member





Ok, correct me if i'm wrong, but what i am reading is that early next spring i should cut the root below the second side shoot. Is this species specific as to exactly when this procedure should be done? for example, before budding for ginkgo or after budding for beech? and is there a maximum amount of root mass that can be removed? I recall reading in a book that you generally want to remove no more than 2/3 of the root mass. Please let me know if i have anything incorrect, and thank you very much for all of your help Marcus. I work and school full time so I haven't had a chance to join the local bonsai community yet.
hi
it does make a bit of difference which species as to how much root can safely go in one chop, so dont treat every tree the same just yet.
please excuse the quick scribble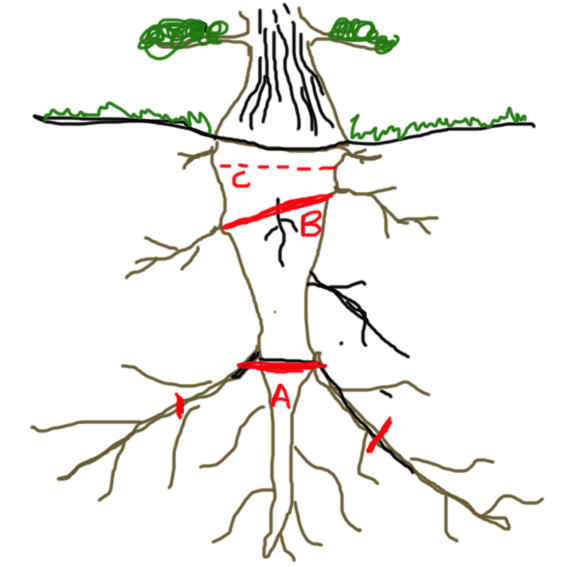 Cut A - safest way for most conifers, weaker trees etc - this cut strengthens all roots above so reduction is done over several repotting cycles
Cut B - possible on strong deciduous trees if you can offer good aftercare and you are good with plants
Dotted line C - where the eventual trunk base will be once the radial roots have fully developed over several years
the safest time to do this is when the buds are swelling or new growth is just observed - if leaves have opened its too late really. the best way to learn is to experiment a bit - try different cuts on two similar trees and see which works best for you.
cheers Marcus

marcus watts

Member






---
Permissions in this forum:
You
cannot
reply to topics in this forum