Today I undertook the task of redesigning this small old yew. For years I have been unsatisfied with the tall slender trunk so today I did some major work to make it more to my liking. The problem laid with an old Shari stretching the entire length. This was very old and made bending it in its current state imposable. For a long time I have enjoyed the website of Master Steve Tolley and it was an article on it that led me to a solution.
Obviously a complex procedure I will quickly run it down in short.
1. Shari line clearly marked in chalk
2. Trunk hollowed along Shari
3. Several lengths of 1.5mm wire inserted into hollow
4. Trunk wrapped in raffia
5. Side wires added and cable tied into place
6. Trunk wrapped again in stretchy tape
7. 4mm wire added in standard fashion
The tree is only half way through styling and will be left for 6 weeks to ensure the survival of the trunk. As long as it does, a large section of the second trunk will be removed and the tree finished. At the moment I will leave it there as a contingency plan if all goes wrong. As new wood takes so long to form on yews the wire etc. will be left on for 2 to 3 years.
Thanks Sam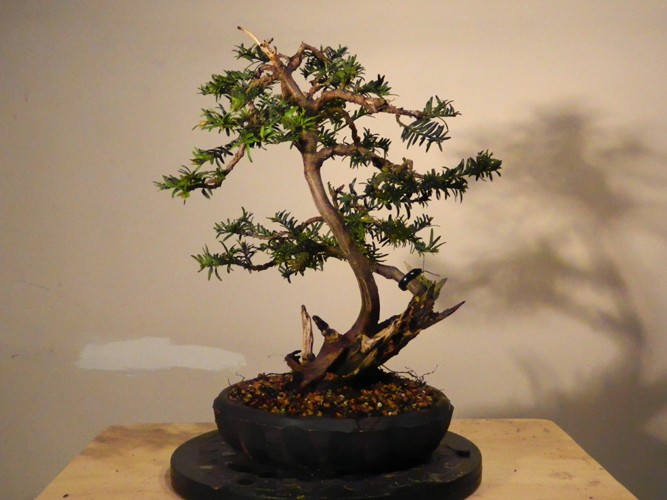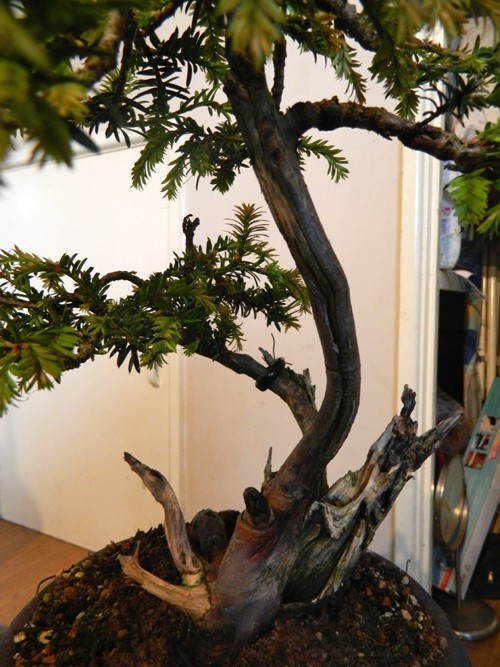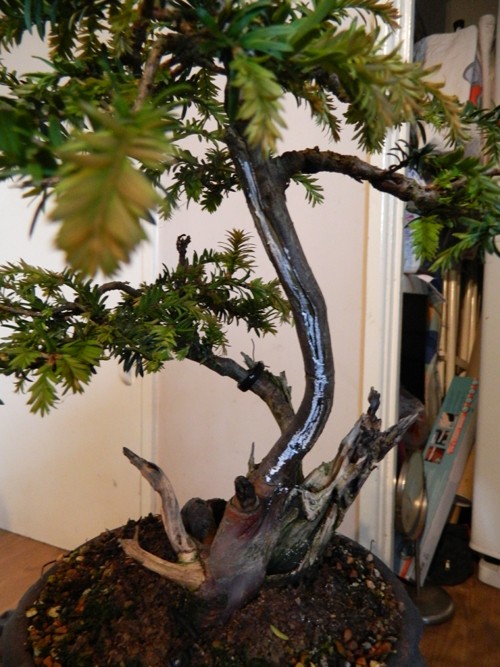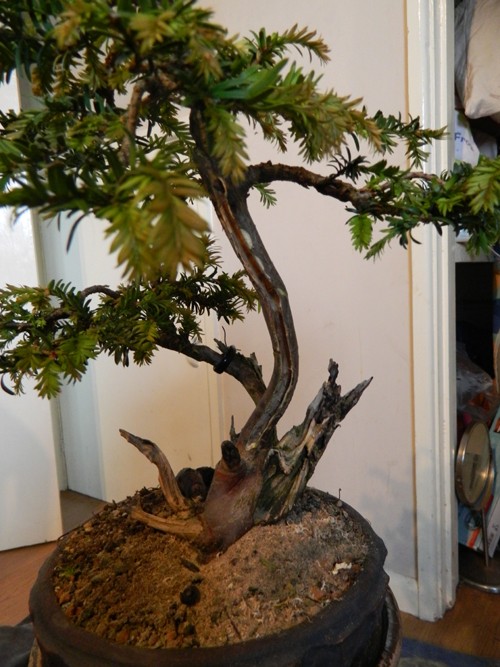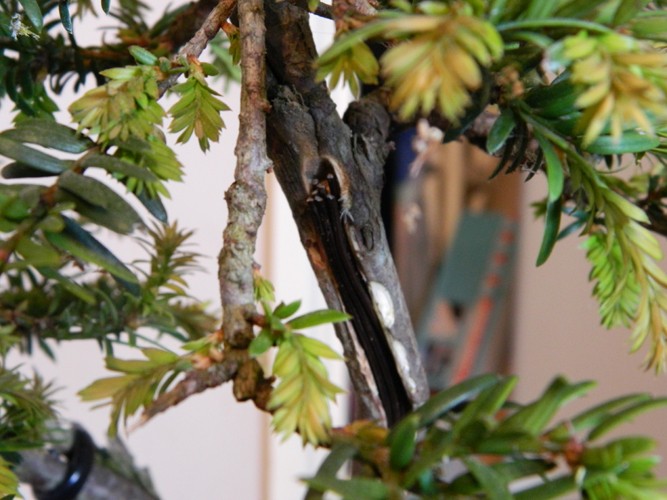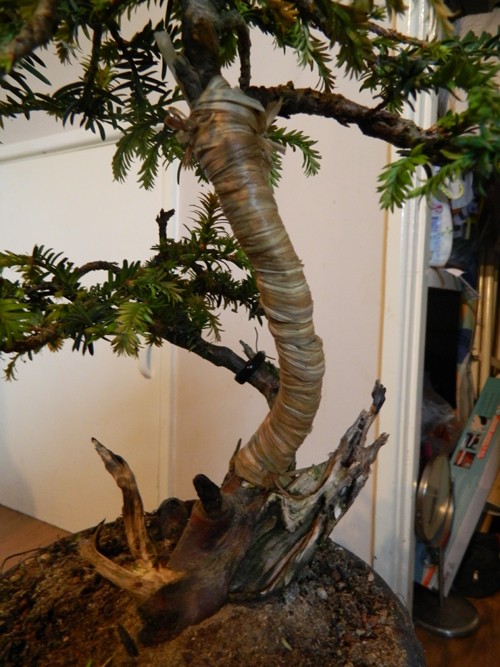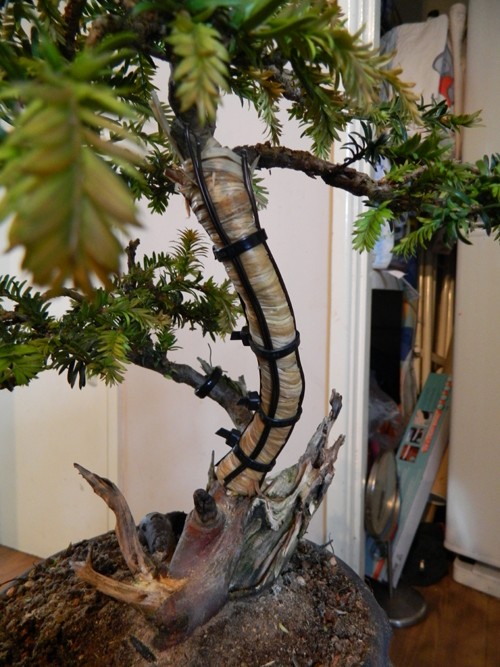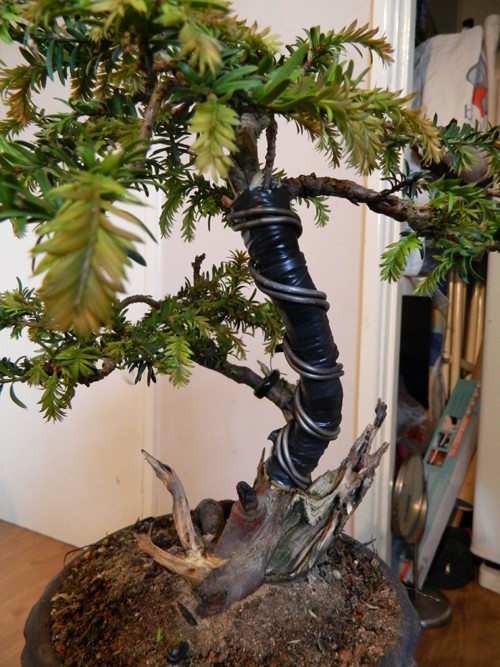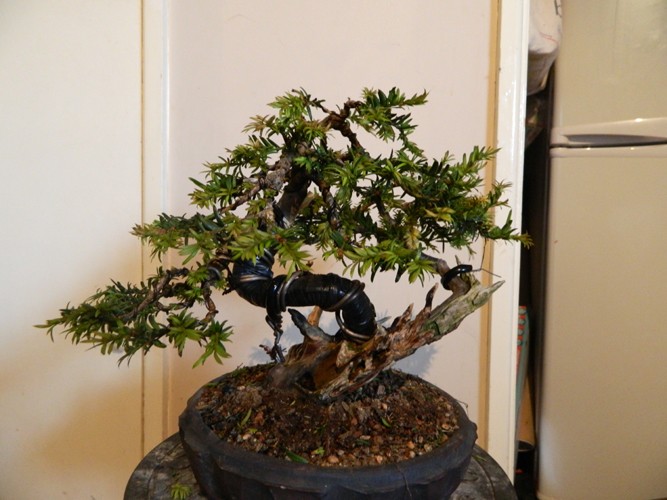 Last edited by Mr Miyagi on Tue Jun 12, 2012 3:23 pm; edited 1 time in total

Mr Miyagi

Member





Wow! Thanks for showing us that, Sam. That's impressive bending.

Hoping it works and looking forward to the next instalment in its progress.
_________________
"Espouse elucidation"
_____________________________________
my website

fiona

Member





Wooo!! I agree with Fiona...that's some impressive bending. WAY more compact image. I'm definitely interested to see how this progresses. Thanks for sharing with us!

Jesse McMahon

Member





That's incredible!! Thanks for posting!
Thanks Guys, I will keep you updated. I forgot to mention when doing a job like this it is important to make sure that both the hollow is in the right place to relive the tension and that the bend also follows the direction of the wire. Just in case you want to try it.


Mr Miyagi

Member





I am assuming that you can never get that gap to close in the trunk?


Jake16

Member





Jake16 wrote:I am assuming that you can never get that gap to close in the trunk?

hi,
you can close an open looping curve like that but you have to be quite brave. similar tactics are used but with no tape or raffia etc. the outside of the curve then splinters and the tree bends very sharply, supported just by the inner live vein and a few mm of heart wood. Tight bends are easier with exterior clamps rather than wire too, then you just keep turning the clamp a few turns each day and if you want the trunk can be made to virtually touch itself. Lots of junipers can be compacted like this too, its good fun trying it out as the dramatic sharp bends look really powerfull. A recent peter T blog post puts 2 savage sharp bends in a thick black pine trunk, that juniper i got from 4ft to 17" used similar methods
Nice start on this one too, a 45 degree tilt to the left could give an alternative view - it lessens the 'import S' look and for me brings the excelent trunk base into the design a bit more - lovely yew, going to have a nice future i think .
cheers Marcus
cheers,

marcus watts

Member






---
Permissions in this forum:
You
cannot
reply to topics in this forum