I will be seeing a lot of vendors this month. I have always wanted a flowering cherry, but most of them are temperamental. 'Hally Jolivette' died from root rot. Prunus mume was OK, but in our hot summers, by the time of our fall show the leaves were shmates (floor rags). I don't know what happened to Prunus Okame. I think it died when I put it in the ground to fatten up. Nanking cherry had a rot when I got it. You can't find Prunus spinosa for sale in this country. Can anyone suggest a Prunus species that is available & a little more vigorous?
Iris

bonsaisr

Member





Hi Iris
This little flowering japanese Prunus " Kojou-no-mai, is very easy to grow, the leaves are natural small, like the leaves of the spinosa.
I have see this kind of tree sold as a fairly dense bush ( regular containerplant ), almost ready to become a mediumsiced bonsaitree, with a OK trunk.
Maybe your lokal garden nursery can take one home for you. Theese trees are inexpensive.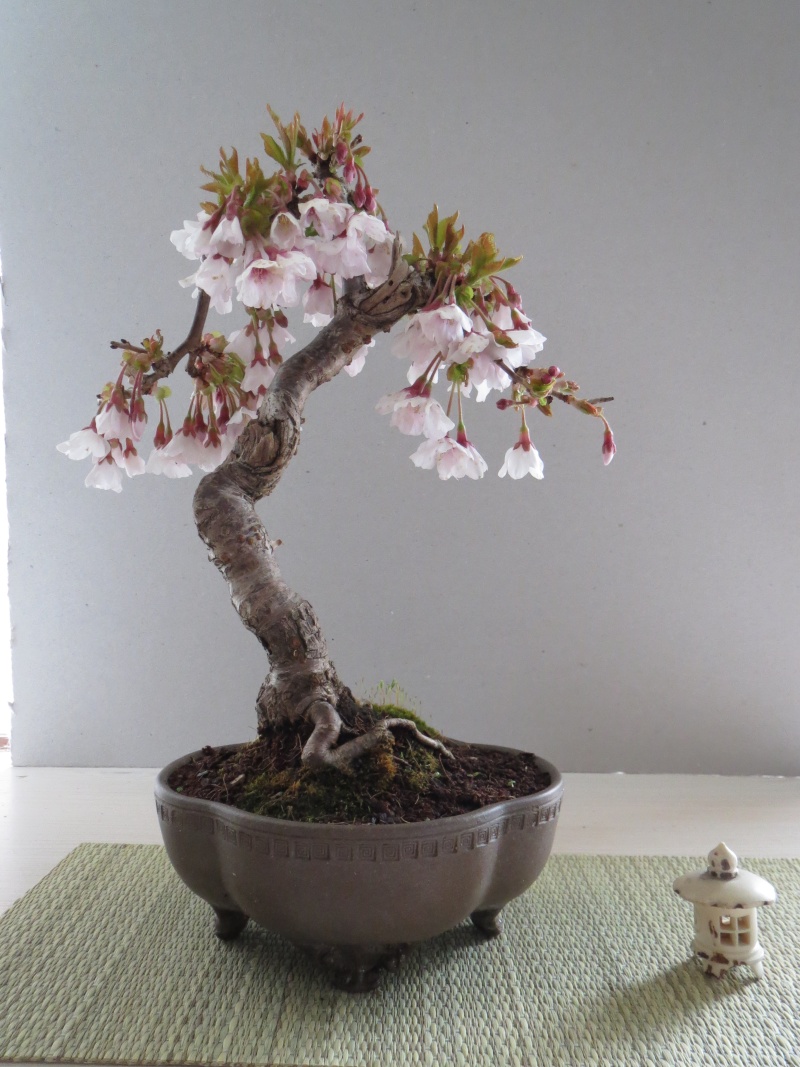 The tree stands 21 cm. tall.
Kind regards Yvonne
hi,
+1 for kojo no mai - very easy to grow - lots of flowers - i have one with fruit on it at the moment too- a shiny black 'cherry'. it buds back easily ect and is very inexpensive as it grows from cuttings rather than needing grafting. - i bought 2 trees about 2ft high at £7.95 each last winter. chopped each back to future shohin sized - seen a few nice ones up to 10ft with multi trunks in a local garden too

like all prunus though it is essential to apply a constant course of fungicides throughout the growing season - they all are fungal magnets and even though no mai doesnt die often it will still be effected.

cheers Marcus



marcus watts

Member





Hi Marcus

I had this one for a handfull years, and do, like you, find it so easy, that I will buy again next time I find one...a hopefull more fat shohintrunk.
I have had no fungus or apid problems with my tree at all ( I actuly have two )....I keep my trees fairly dry, in tiny pots....

Kind regards Yvonne
Thank you. 'Kojo-no-mai' is a cultivar of Prunus incisa, the Fuji cherry. I don't think I've ever seen it for sale here, maybe on the West Coast. However, it is one of the parents of Prunus 'Okame.' The other parent is P. campanulata. I think I'll look for Okame again, this time in a larger size that doesn't have to go into the ground.
Iris

bonsaisr

Member





hi Yvonne,

i've not had any visible fungal outbreaks on mine either, the routine spray is just precautionary so fungal spores are reduced on and around the bench areas.

Thats really interesting about the varieties and parentage Iris - the kojo is certainly a hardy cherry, hopefully one day you will find one.

cheers Marcus

marcus watts

Member






abcd

Member





Hi Marcus
Happy, you did not have fungus in theese trees..now I know them again..hardy.
Hi Iris
Please ask your local gardennursery...Maybe they dont mind taking theese trees home, now you ask...
Loved to read your information

Like your trees abcd
Kind regards Yvonne
Yvonne Graubaek wrote:Please ask your local garden nursery.
It wouldn't be sold around here, as it is only hardy to Zone 6 & I'm in Zone 5. Local nurseries have a few flowering cherries, like 'Kwanzan,' which is not that great for bonsai, but they're all grafted. The Okame that died was from a mail-order nursery. I will look at the Denver convention next week, but don't ask me how I will get it home.
There was a large vendor area at the National Exhibition in Rochester, but no cherries.
Iris

bonsaisr

Member





Iris

I wish you had told me when you came out over Memorial day, I would have given you the "other" Prunus virginiana clump I have...

I am also fond of cherries and like Iris I have heard the horror stories. My only experience with the genus has been P. virginiana and it has both been hardy and vigorous (once established) it also has an added benefit of smaller flower racemes then black cherry and it doesn't seem to get the spot leaf that infects every other sour cherry I have in my orchard.... EVERY SINGLE YEAR!

-Jay

drgonzo

Member






---
Permissions in this forum:
You
cannot
reply to topics in this forum