evergreenthai

Member





From Frank English's article "What is suiseki?" (internet address:
http://www.srmgs.org/suiseki.php
)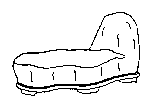 - A level plain parallel to the base leads to a peak at one end, approximately 1/4 the stone's overall length.
- Plateau joins the peak along an open-face diagonal as viewed from the front.
- Some Doha, instead of level plains, feature low-lying foothills rising toward a distant peak.

Chris Cochrane

Member





Hello Chris
Thanks for your useful guide

Witsanu

evergreenthai

Member





Hi Witsanu... Frank English's guide is useful for assessing a "model" landscape view suiseki, but suiseki exist as they are found with considerable exception to models. Just as feeling is more important than technique in display choices, a doha stone might be appreciated more which doesn't follow the model form. It would be dreadfully boring & less-than-natural to see identically contoured stones representing a particular class of suiseki contour. These 'classes' of stone contour (e.g., doha) are notions (mental contructs) for considering a stone as indicative of a natural scene, to be weighed alongside other considerations.

Your 1st stone interests me in its contour & weathering. If it is limestone, I would be less inclined to consider it as suiseki, because Japanese limestone chosen for suiseki have different qualities than this stone. Rather than a doha, I would consider it a mizutamari-ishi/"waterpool stone" representing a cloud-covered mountain lake if the slight depression holds water.

The other stones are not as expressive of a natural landscape, for me. If there one you particularly like, we can discuss it's charms &/or shortcomings.

Chris Cochrane

Member





Hello Witsanu!
I also find your number one stone interesting,...

Smooth natural weathering, unusual form, but familiar shape.
If I could however pick it up on turn it upside down,
while and balance it on the small stump, much more so...

looks like there could be more there than meets the eye.
maybe shelter stone, old pine tree silhouette or monument valley hoodoo, try it just for fun!
as pictured can not really tell what the underside looks like, could be a better top!.
grown men playing with stones...

Last edited by stonener on Sat Jun 09, 2012 2:59 am; edited 1 time in total (Reason for editing : +)
Hello stonener
I turn it upside down as your idea, it amazes me even just for fun. Thank
Hello Chris
Thank for your comments, my 1st stone is not limestone. I try to put the water in the slight depression, yes it can hold water. I have two more stones for you or anybody to comment, please feel free to do so.
Regards,
Witsanu
stone no.1 upside down
stone no.6
stone no.7

evergreenthai

Member





Witsanu Your No.1 upside down WoW!...
Just as I thought, good color, smooth river polish & great shape.
and then best of all I think, it stands up on it's own, great balance too.
Now more quality's can easily be appreciated when placed this way...

only thing needed to display is an oval jiita, plain simple black lacquer mirror finish,
1.5 x length of stone, by 1.5 x width of stone, place stone little off center toward the right end,
motion of stone is to the left, if seen as Chinese Style add tiny bronze boat,
directing on jiita, to the left, reflection will give the look of water and will increase visual scale..

for caution,
a pea size ball of florist clay can be used to steady stone, keeping it from falling over if table is bumped!
Last edited by stonener on Mon Jun 11, 2012 4:29 am; edited 3 times in total (Reason for editing : +)
Witsanu this one I think needs a stand to hold it at the right angle for viewing.
lean it to the left, level it across the top as much as possible, standing it straight up!
Over hang at top to the left ok!, little water will still keep, scale better,
seen as alpine lake, the rest is there, stones speaks for itself....

Last edited by stonener on Mon Jun 11, 2012 4:52 am; edited 1 time in total (Reason for editing : -)

---
Permissions in this forum:
You
cannot
reply to topics in this forum