Hello,
I'm looking for some help and advice please with Cankers on a recent Acer that I purchased. I'd seen it in a garden center last autumn looking a bit unhappy and again in the winter with lots of branch dieback. Whilst there this spring I saw that the price was reduced and it had started to leaf out. It had a nice thick trunk and thought it would be worth trying to rescue, so I negotiated on the price and got it really cheap. Being a bit of a novice I initially thought the die back had been from the extremely cold winter, and the old clogged soil it was growing in. However on closer inspection after getting it home, repotting and removing the dead branches, I realised the dieback was a result of disease, which I later identified as canker.
I cut back below the affected areas but it continued to spread.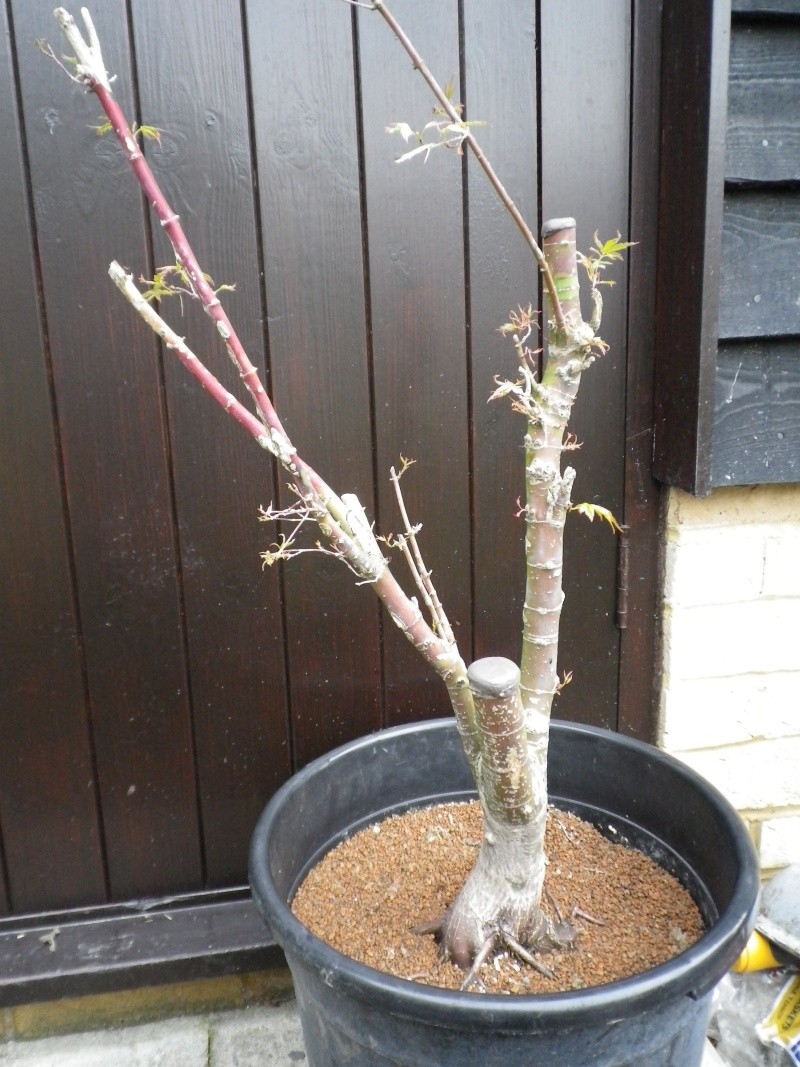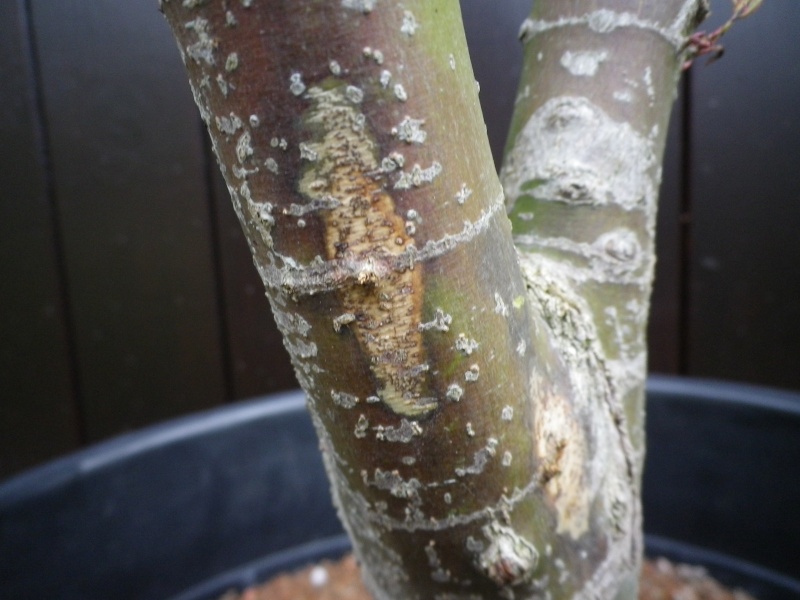 I know I got it cheap for a reason but I saw some potential and hoped to save it from death at the garden centre!
Removed more, still spreading.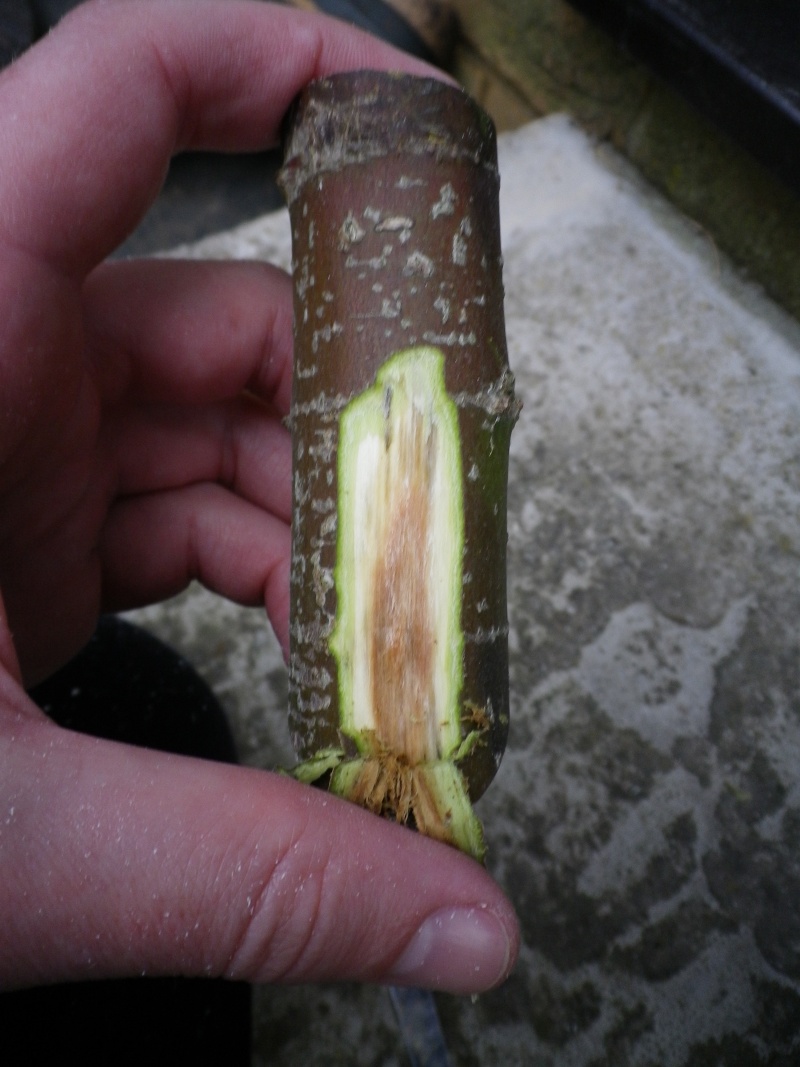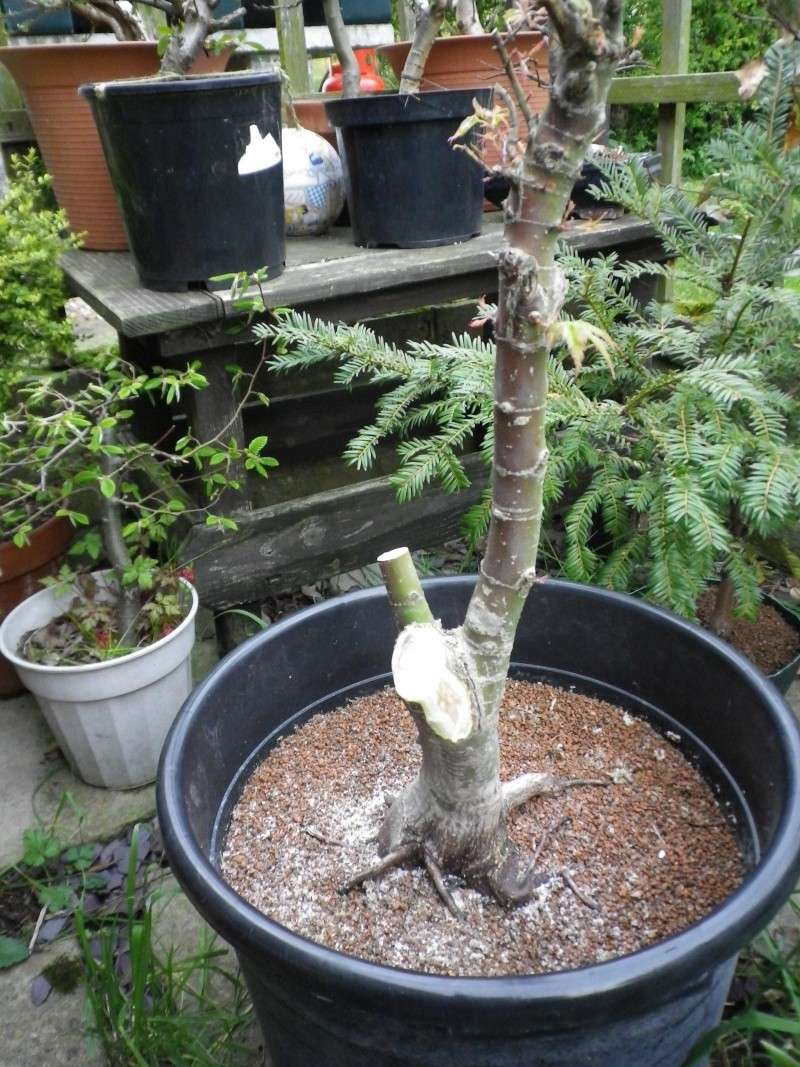 Removed more and exposed bark trying to dry it out. Been so wet lately though!
Still spreading............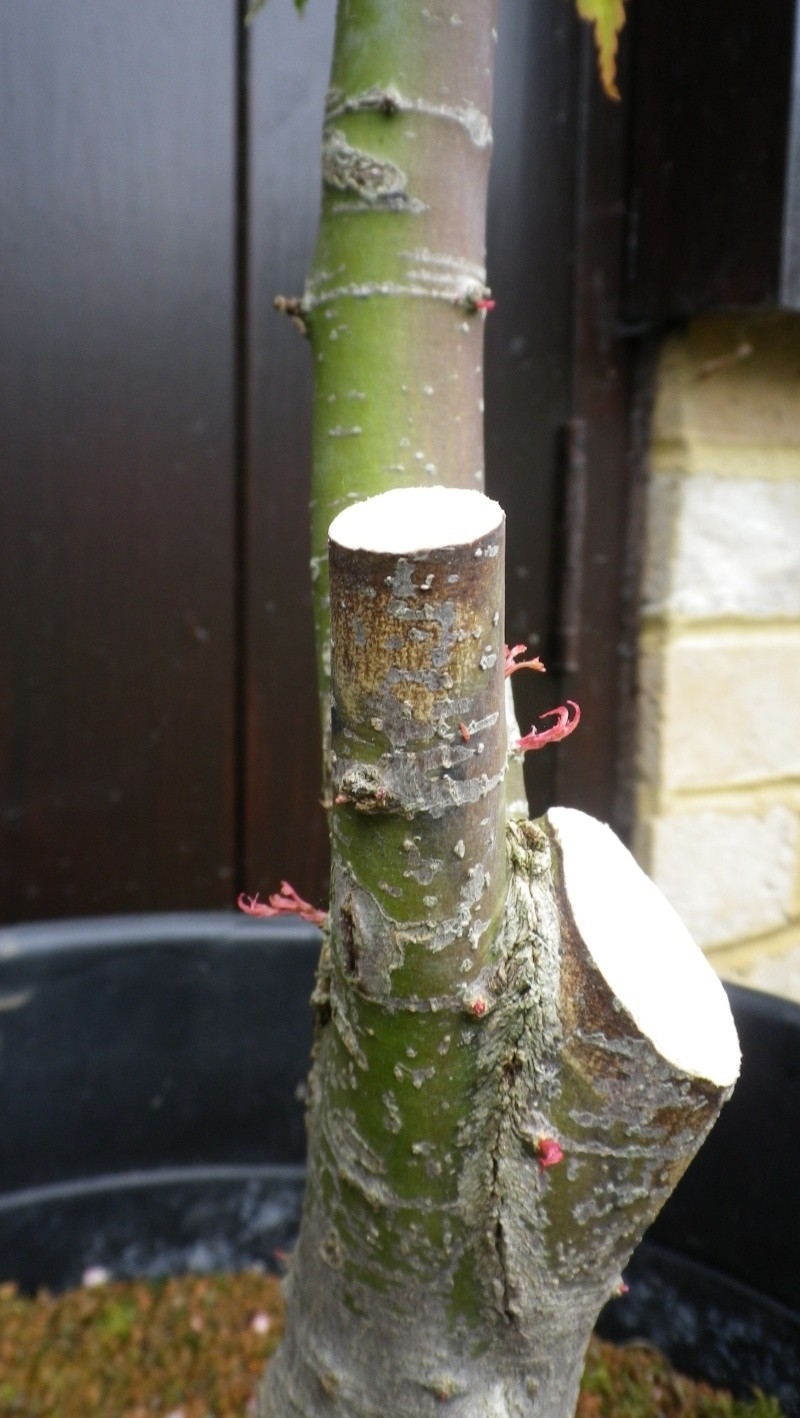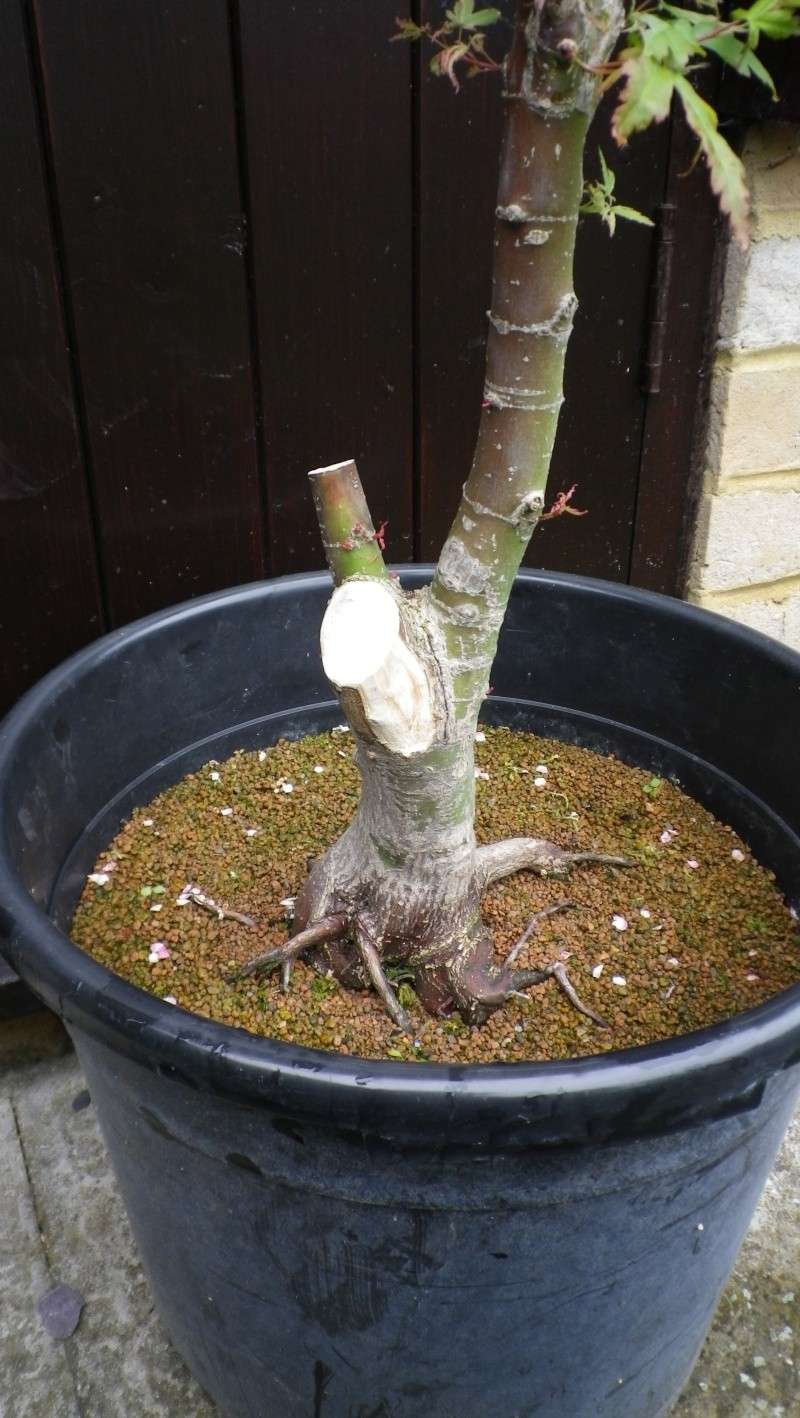 Looks like I will have to chop right down low on the trunk now on red line in picture below. Seems like this is my last hope, wont leave much scope for bonsai as I had hoped for, but would like to save it all the same. All I have read says there is no treatment other than cutting away infected areas. Also it is kept away from my other trees!
Any suggestions would be appreciated; is it too late? Am I wasting my time?
Thanks for reading.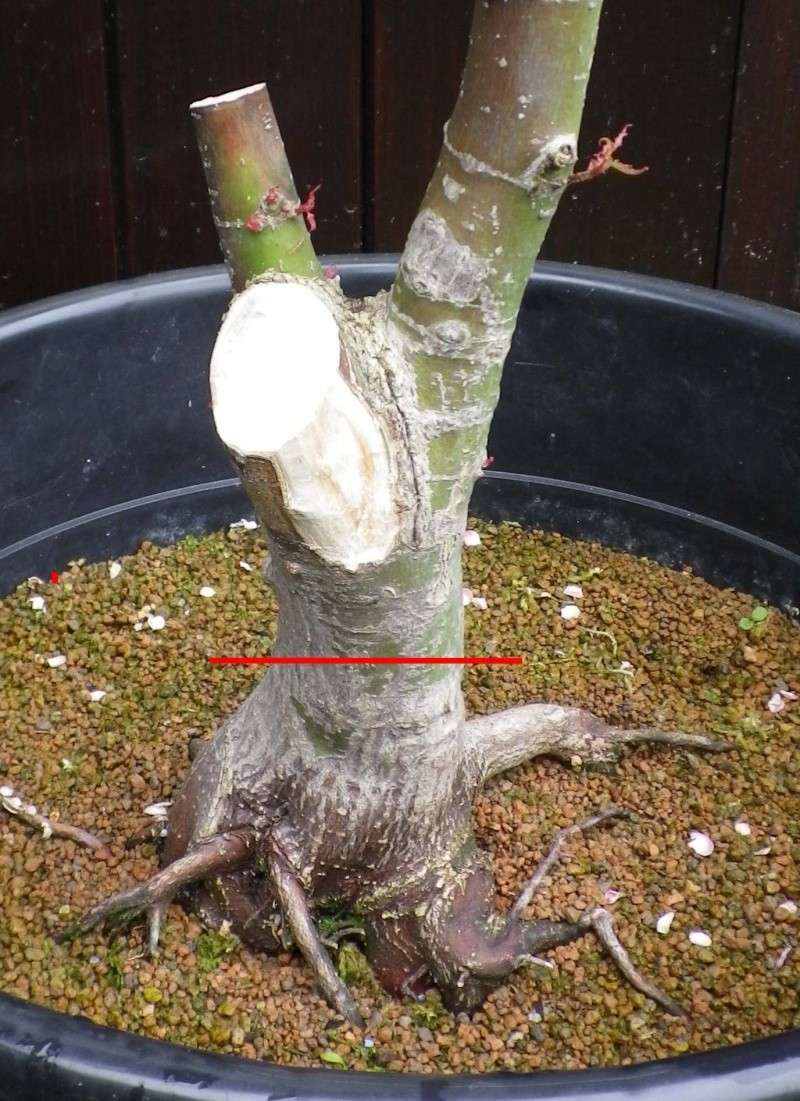 Hi A J

I had this problem with an acer...I ended up cutting away the dead bark, and sprayed for fungus all ower the tree, and where the bark was removed, and found dead /rotten wood, did I spray more days.

The tree survived to my surprice, and is now going to be a future raft, doing well.

Kind regards Yvonne
It's unwise to bring a diseased tree into your collection as tempting as the price may be. Its a lesson I've learned the hard way. As I look around for pre-bonsai material the first thing I look for (before trunks/branches/roots) is health and vigor. Weak trees or diseased trees will waste valuable time in that they must first be brought to excellent health before they can be worked. Sometimes this struggle is futile.

If this tree were in my collection i would destroy it before whatever is causing the canker/anthracnose spread to any of my other Maples.

-Jay

drgonzo

Member





Thanks Yvonne and Jay for your replies,

Jay, I will remember your words of warning in the future and look more carefully and consider the problems such a purchase could bring.
For now though I will keep it isolated, chop again (disinfect tools as always!) and spray, as you did Yvonne and hope I also have your success.

As Yvonne says "Live and let live"...........................

---
Permissions in this forum:
You
cannot
reply to topics in this forum