Apparently someone had started training this as a bonsai or container tree and left it rooting outside their townhouse when they moved out, luckily a friend of mine doing landscaping was told to get rid of it and sent it my way. There is a nice main trunk with a subtle curve to it which I like, and some of the old branch bases at the base I will most likely carve into some sort of jin or deadwood feature. I don't think I want to just wait until next year and chop the top off as I would like to utilize some of the existing growth, just need some styling ideas and input as I haven't worked with azalea before. I plan on pinching back and stimulating back budding the rest of the season to give me more options, but I am open to any other ideas, thanks.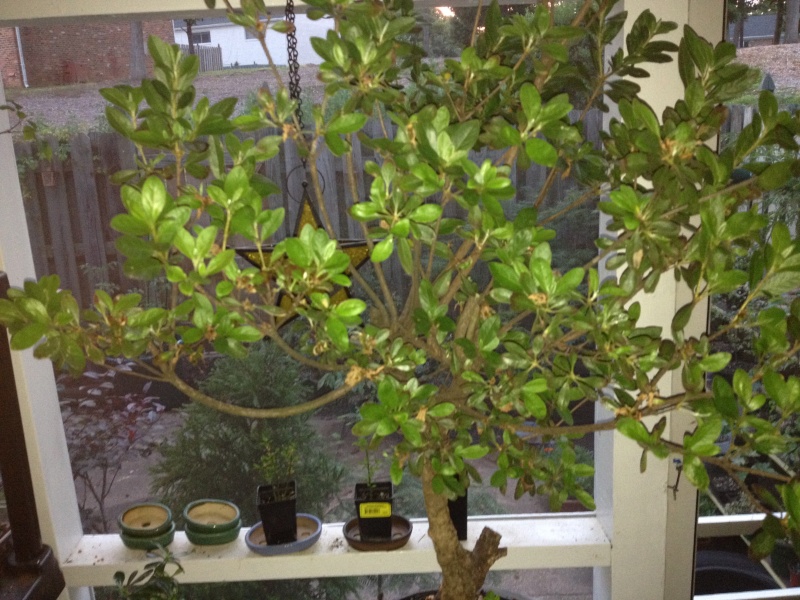 Steven

Member







It's hard to make any design/styling judgemant calls because not much can be seen. DON'T chop the top off. As for that dead wood at the base, sometimes it's really soft and spongey and should be removed. Either way, I'm not sure yet if it would be an asset to your future design or just a distraction. It looks like there is a pretty big "Y" in there, so at some point you'll need to choose a line and eliminate one of those. If you are planning on doing any major pruning this year you need to do it sooner than later.

First things first - that pot is terrible. It appears to be really healthy and vigorous, but get it into a wider, shallower pot - like the tub sitting next to it. An azalea that size needs a lot more soil surface area for its wide, shallow root system.

Post some better pictures when you can.

Russell Coker

Member





Thank you for the insight, I had actually repotted the tree into a much larger container just after those pics. Below are some better pictures of the trunk structure, I agree with you that I will need to remove one side of the "Y" and I think I am going to do that today before its way too late in the season. I definitely do not want to chop the trunk off now or at any point, and I hope to stimulate some nice back budding along the trunk between now and next year to give me some more options for what I am thinking of. Let me know if these help a bit.



Steven

Member







I'd remove that branch on the right. You do need a branch there, but not that one. It will probably pop a new one there when you cut the big one off. You can shorten some of those long crazy branches too while you're at it.

Take an old soft toothbrush and GENTLY scrub the trunk from top to bottom. That will remove dirt, grime and old bark and stimulate back budding.

Russell Coker

Member





agreed, took the right side off and it looks so much more like what i was envisioning, also cut alot of the longer branches back and pinched some of the others as I didn't want to remove too much being uprooted plus we are getting a lovely heat wave this week so I do not want to abuse this plant too much. Thanks for the tooth brush Idea, I never even thought about it stimulating budding!! Thanks again, hopefully over the next few years I can shape this into the beginnings of something nice.

Steven

Member





I second the toothbrush idea I have moss and a mint green flakey stuff on the bark? Any pics after your cuts?

dadshouse

Member





Here are some post op pics, I removed the right side of the "Y" and shortened some of the longer branches, I decided to just pinch back some of the others for now as I am still trying to decide what I want to do with the mess of pre-me cuts and die backs at the top, plus for now she can grow the rest of the season and next year I will have a better idea of what I can do once I see some nice back budding.

Steven

Member





Very interesting azalea, shame that someone threw it out. In shape looks similar to mine (which i have no idea how to shape yet) i'm sure it will turn out beautiful with time.


katsols

Member





Hope so, I have two ideas in mind for shaping, going to pinch back growth to push some back budding for the next few weeks then just let it grow until next spring when i can take some of the longer branches back hard if needed, hopefully by then I will have some new growth to start working with and the tree should have recovered from the move and root work enough so that I can start cleaning up the base and deciding what to do with the root work. Should be a fun ride over the next few years.

Steven

Member






---
Permissions in this forum:
You
cannot
reply to topics in this forum