I lifted this plant late this spring after blooming was completed....it was grown in the ground for five years from nursery stock...I am looking forward to seeing its deep maroon bloom color with this pot next spring. I would like to solicit information regarding the pot. I do not know much of its history, but it is dear to me because it was a gift from my late father. I only know that he purchased it sometime during the mid-fifties in California. Thanks in advance.
Tom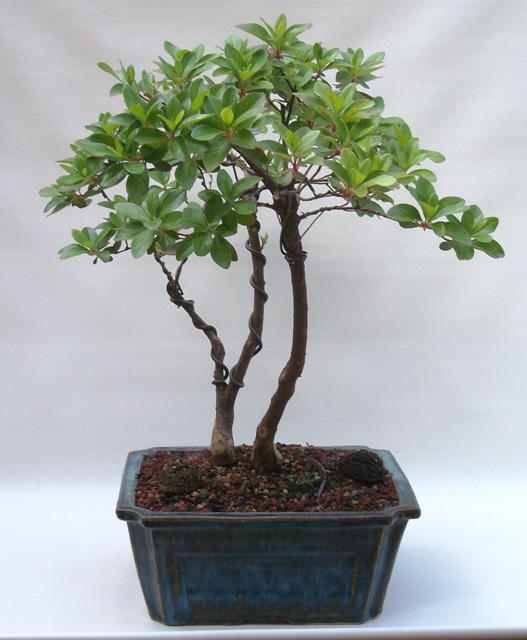 Tom Simonyi

Member





Nice little tree and great pot. Is there anything written on the bottom?

One the tree, I'm assuming it is ONE plant and not two?? Is there some way to get the bases of the trunks closer together, especially at the bottom? And maybe to use wire to twist the Y-shaped trunk a bit so it's not such an obvious Y?
_________________
Jim Lewis - lewisjk@windstream.net - Western NC - People, when Columbus discovered this country, it was plumb full of nuts and berries. And I'm right here to tell you the berries are just about all gone. Uncle Dave Macon, old-time country musician

JimLewis

Member





I agree with JKL - widen the overall canopy by bending down some...

Any markings on the pot?

BonsaiJim

Member





Thanks to you both....I can definitely remedy the Y-shape as you suggest...thank you for that...There is no discernable writing on the bottom of the pot. When the shrub was planted it was multi-stemmed....about 6 weeks prior to lifting it this spring I removed all but the two that you see. The root ball seemed to be pretty tight and fibrous as expected...don't know about moving the bases of the trunks much closer together...maybe down the road a bit. Thanks again for your input.

Regards,
Tom

Tom Simonyi

Member






---
Permissions in this forum:
You
cannot
reply to topics in this forum