Hi all,
This is a small shimpaku I bought some time ago from a small nursery here in Perth, Western Australia. It has been trained a little already but I am wondering how to take it the next level.
I would like to keep it as an informal upright tree if possible. As can be seen there are some flaws in the branching and a lot of the foliage has been removed closer to the trunk. It has decent roots and base so I am happy with this side as the front.
Nevertheless, I think this has the potential to become a nice little tree.
I was wondering if anyone could be so kind and offer any opinions/advice etc that might help improve this tree? Tips on shaping/wiring etc?...I see this tree as an iformal upright. I was thinking of applying some wire to the trunk to bring the crow more over the trunk and also maybe putting a little more movement in the trunk and bringing the branches down.
Also, as we are mid autumn getting into winter soon, am I right in assuming that any pruning, pinching and branch cutting should wait until Spring? I think the bottom two branches should definitely go.
Anyway, I appreciate anyone helping a relative newcomer out
Cheers
Adrian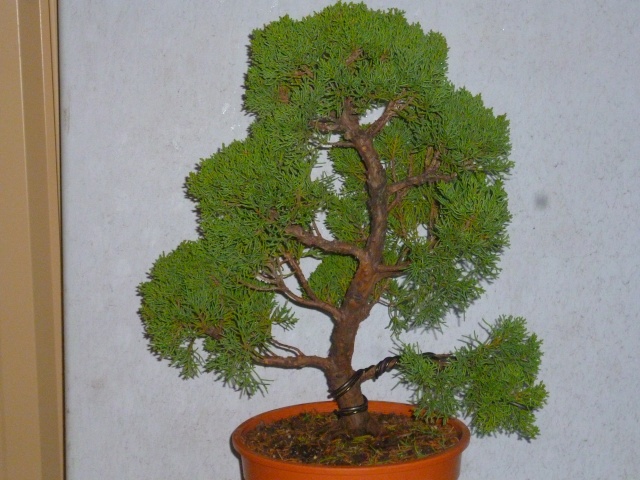 _________________
Jim Lewis - lewisjk@windstream.net - Western NC - People, when Columbus discovered this country, it was plumb full of nuts and berries. And I'm right here to tell you the berries are just about all gone. Uncle Dave Macon, old-time country musician

JimLewis

Member





Hi Jim, thanks very much for those very helpful virtuals. Hopefully others can post some options also. it is really appreciated as I am new to bonsai and need as much help as is possible!


hi and welcome.
to get the tree in scale with the trunk the branches could be made into smaller, thinner layers. Over time a good balanced design could be this - with the tilted trunk adding more interest too.

to achieve a tree like this will need practice in thinning the juniper shoots and fine wiring - it will take a bit of practice but this is a perfect trree to learn the methods with.
cheers Marcus

marcus watts

Member





Thanks very much Marcus. some definite food for thought!!
its a nice little tree and I hope I can do it justice!

cheers

Adrian

---
Permissions in this forum:
You
cannot
reply to topics in this forum