Page 2 of 2 •
1, 2

CraftyTanuki wrote:
This tree, this front, windswept, just needs strong Nebari. All the best and good luck, Jun.
Dear Crafty,
If you read previous posts of Jun, you will see that taking such recommendations are prohibited

So, jun cannot use this piece anymore!


Sakaki

Member





I sure do hope that we get more entries. Who wouldn't want a
free
trip to china? Or even the other prizes.
It is too bad that I have disqualified myself cause I would enter a few of my trees!


Paul Stokes

Member





I will not participate this contest, but I promise...I will join the winner in China as I am organizing a Penjing Studying Trip as well. Let's have fun in "The Paradise on Earth" here...
Huangshan (Yellow Mt.)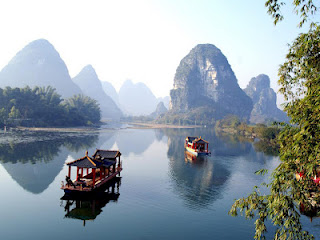 Guilin...
..and we will learn Chinese Penjing with one of the masters in one of the largest privet collection garden in Guangzhou...

Robert Steven

Member





haha Hi Jun.
Now, as your family


have posted the trees here for our advice on which one is the best to use here goes...........
Tree one - with tree one i would use the trunk as the main part of the design, chosing several of the branches to complement the trunk and make a tree like image - then grow some green bits in a flowing windswept way so they ripple and convey movement - and add it to a big rock, or a flat tray ......




(OH no, that is
tree
one disqualified rather than you or your sons


)
Tree two - with tree two i would use the trunk...................lean it so the wind blows, ripple the branches when they grow , add a small model house and a rock, or even a pond with a boat maybe???........................




oops,
tree two
is now out as well.!
now i think if you use a trunk, branches, windswept, rock, model figures, boats or houses, water or movement in your entry it will have been with help from the ibc






haha, take care
Marcus

marcus watts

Member





Yes, I do hope more people would participate. and I am hoping that more of the IBC people would join in too...Let's use some of the stuffs we learned from this forum.
Marcus,
Are you joining?
Don't worry about my materials,,,,I got dozens to choose from,,,

hehehe.



regards,
jun

P.S.
I am being dishonest about hoping for more people to participate,,,I am just trying to be civil...The less participants, the bigger the chance for me to win. hehehe






.........................................................Just kidding, just kidding. See your entry of materials there guys.
Mine will be sent next week.
Page 2 of 2 •
1, 2

---
Permissions in this forum:
You
cannot
reply to topics in this forum