Bonsai Clubs International (BCI), consistent with its mission is committed to the ongoing bonsai eduction of its members, and to an extent the wider bonsai community, recently released a book for its member clubs that shows an assortment of top notch BCI bonsai artists from around the world. The Instructors book is to help clubs in the selection of lecturers, demonstrators and workshops tutors for clubs and regional events. It features BCI member artists from many different countries including Australia, Austria, Canada, China, Czech Republic, Germany, India, Indonesia, Italy, India, Japan, Lithuania, Malaysia, Mexico, Netherlands, New Zealand, Philippines, Poland, Puerto Rico, Singapore, Slovakia, South Africa, Spain, Switzerland, Taiwan, Thailand, UK, USA, and Venezuela.
It is a beautifully produced large format book that I feel adds to the Bonsai community body of knowledge. For example it is showing to the world many relatively unknown (to the west at least) Chinese artists.
Here is the cover of the book.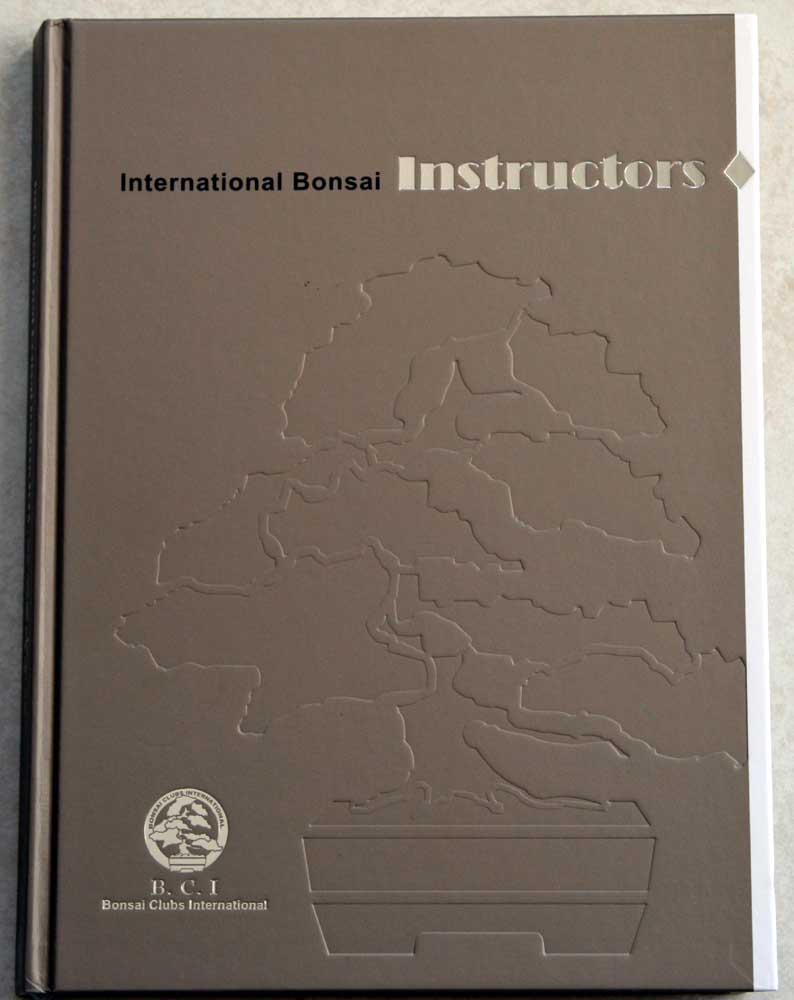 Here are a couple of the artists page. Each artist has their photo, a bio and a photo of at least one of their trees.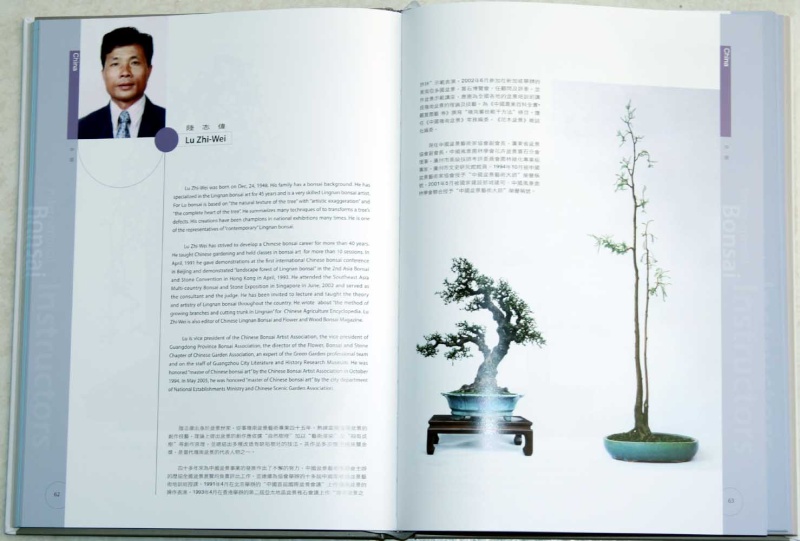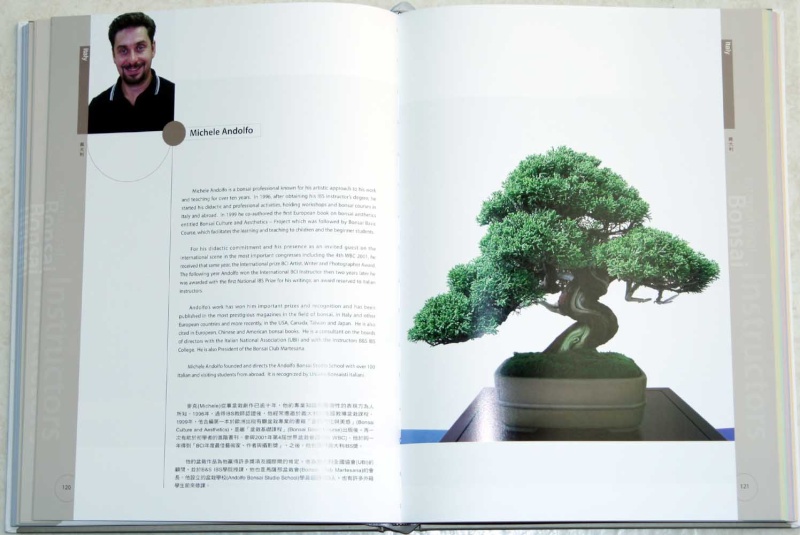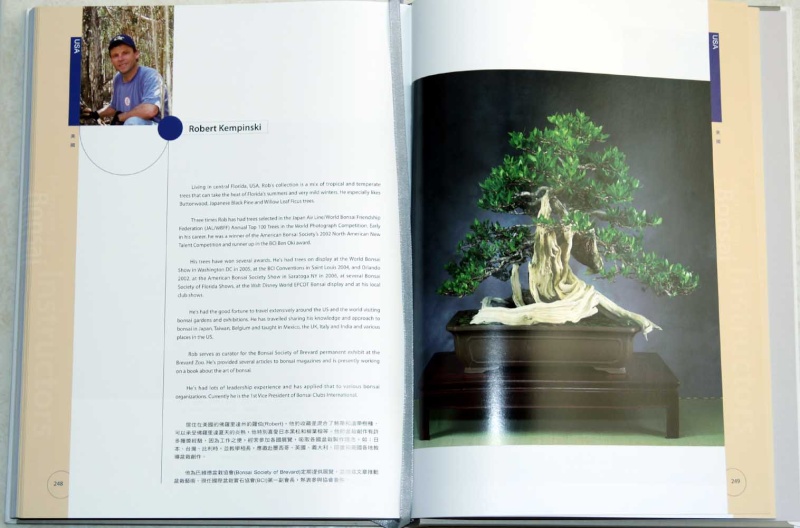 PS In the interest of full disclosure I am a BCI Vice President.

Rob Kempinski

Member





"PS In the interest of full disclosure I am a BCI Vice President."
That last guy looks a lot like you too!


_________________
"Eschew obfuscation"

John Quinn

Member





John Quinn wrote:"PS In the interest of full disclosure I am a BCI Vice President."

That last guy looks a lot like you too!
T'is me, shown collecting some Bald Cypress.


Rob Kempinski

Member





John Quinn wrote: That last guy looks a lot like you too!
Good Lord, 19 year olds must wear well in the USA.

This looks like an excellent publication and one which every bosnai association should have. Some questions if you dont mind please Rob/other BCI officials: first, how do we go about getting out hands on this book; second, cost; and third, is there a plan for updating it as new instructors come on board, as they inevitably will? This information would be greatly appreciated.
Now a question which I am aware is going to sound like a criticism. Please accept that it is not intended as such - it is merely to satisfy this student/learner's curiosity having "sampled" several bonsai instructors. The question is this: what "qualification" does someone have to have to be able to call themselves a bonsai teacher or instructor? Is the criterion simply that one is a (successful) bonsai artist? I have no doubt that many if not most of the people in the book will be excellent teachers. I just dont think there is automatic progression between the two. I have encountered excellent artists who are not especially good at teaching for whatever reason, be it inability to articulate concepts or techniques etc. in a way which students can grasp, generally not being a good communicator. (We also have to add to this, I'm sorry to say, the "ego factor").
As I said, this is merely curiosity coming from one who has, after looking for some time, arrived at the person who I believe to be the right teacher for me (even if he does talk funny). No criticism intended of any persons living or dead. I just am a Scot who wants value for their money and I'm sure I'm not alone in that. Humour me.
PS Rob: right now I'm sitting in an armchair looking out over Turnberry waiting for Tiger Woods to stroll by.

fiona

Member





fionnghal wrote:

John Quinn wrote: That last guy looks a lot like you too!

PS Rob: right now I'm sitting in an armchair looking out over Turnberry waiting for Tiger Woods to stroll by.
First things first - you lucky gal you. I have a special place in my heart for Turnberry as my wife and I spent our honeymoon there. Loved the golf course

but couldn't deal with the Haggis.

Let's hope someone gives Tiger a run for his money.
Now back to the instructors book. First, how to get it. There's a couple of ways. You can buy one from the BCI webpage. However the book retails for $150 so it's expensive. Just Google BCI or go here
http://www.bonsai-bci.com/index2.html
Click on the member services and the bookstore.
A much better way is to get it for
free. To do so you recruit 15 members for BCI (including yourself if you're not already a member) and you'll get the book for free. Send the list of new members you recruited to the BCI Business Manager and she will send you the book. Its a win-win for the new members and for BCI.
As for what qualifies someone as a bonsai instructor? It's a subjective judgment. There are many ways to do so, and you can debate it at length. There is no right or wrong answer. To make the book the BCI board had to pick a process. The globally based BCI board debated it at length (in fact it took almost 2 years to get it settled and to make the book.) The board is made of global bonsaists from many different countries, some of whom are professional artists, avid bonsai collectors, business executives, teachers, bonsai artists who are also artists in other fields than bonsai, doctors, lawyers, etc. We decided to set up a regional selection process. Keep in mind that teaching methods vary with culture. For example the traditional Japanese method to teach bonsai varies significantly from the American way to teach art. So the regional collection process addressed these factors. The regional collection and selection of candidates submitted the artists info to the Book Committee. Factors such as reputation, portfolio, and whether they were a BCI member were the criteria. Reputation was the largest factor while BCI membership was a go-no go criteria. Reputation has be earned by teaching and getting known to the bonsai community, and since BCI is global its the global bonsai community. Also keep in mind it was a voluntary process. We asked BCI members to submit their info. So you may wonder why some names are not in the book; its because the artist didn't submit them. However, the names in the book represent a great global cross section and are good instructors and would do well at most clubs events.
As for updating the book, we have several plans in work but we don't expect to do it for a couple of years. The Inaugural book certainly is beautifully done and really adds to the bonsai community body of knowledge. It introduces many artists that while well known in their regions are unknown to other parts of the world. That is the beauty of BCI's market niche. Our global board is a tremendous asset to the whole bonsai community and the peer review process it provides gives it a degree of reliability beyond other venues such as the open Internet. Also in the coming months BCI plans to increase its offerings so joining now members will get to enjoy our increased products.

Rob Kempinski

Member





Cheers Rob. I think I'll give it try to recruit 15 members. Will divert fifthwith to the website.
Slainte
Fiona
BTW I'm in one armchair, my Dad (whose flat it is that overlooks the course) is in the other, but there's still a spare chair if you oust the dog temporarily!

Also, Tiger and co will pleased to learn that all haggises (haggi?) were rounded up prior to the tournament and are safely closeted in the farm next door. They will be returned to the wild after Sunday. No haggises were harmed in the writing of this post.
Now what was that you said in another post about there being too much summer sun in the UK!

fiona

Member






---
Permissions in this forum:
You
cannot
reply to topics in this forum