this stone came with a Chinese Elm I bought from a garden centre,I kept the stone and got rid of the Elm,IT had a lot of cement on it so it took a while to clean then I had a friend Doug Mudd to make the stand.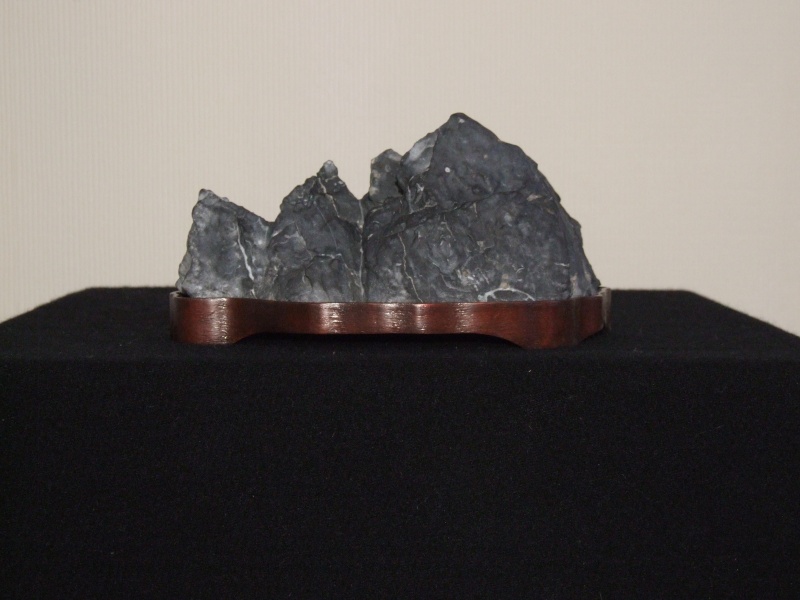 Bill G

Member





Hi Bill,
What an interesting find...was this a root-over-rock tree? I have several small mountain stones from Vancouver Island that resemble your stone. They are limestone and when quarried have a cement-like residue that is usually removed....as do Chinese lingbi...Japanese furuya.... and Italian ligurian.
It would be fun to track down the origins of this stone

Thanks for sharing!
Norma

Norma

Member





Hi Norma it wasn't root over rock it was just in the pot next to the Chinese Elm,the cement I referred to is what they use to keep it in place in the pot, thanks for your comments. Regards Bill.

Bill G

Member





Hi Bill... Norma's reply is deft. In those places she notes, limestone is collected from the ground (karst landscapes) rather than from a running stream. In Victoria Island (BC, Canada) a stone mostly (if not entirely) covered with clay is dipped in acid, which bubbles yellow to reveal a shiny jet-black surface. Some Lingbi scholars rocks have been treated similarly to achieve a jet black surface & very clear threads of white calcite deposits running through the limestone.
YingTak rock used for penjing is often black but less shiny than the acid treated stones with which I am familiar. This could be a YingTak (or similar) stone. I would not necessarily assume acid-washing to create the black (though more often gray) surface for them. Weathering (which is recommended for aging many suiseki to create a skin) is not recommended for Furuya-ishi stones. Weathering could lighten your stone to its detriment. It is safe to maintain & enhance its beauty by clean, dry cloth dusting/polishing.
The surface recalls large & very heavy Chinese stones in at least three members of Potomac Viewing Stone Group collections. Their subpeaks often unfold in petal-fashion, like leaves partially opened from an avocado to form lower peaks. Though not the best example of that form, I'll attach a photo which expresses similarity to Bill's stone surface (& its finish). The water tray (a borrowed
doban
) is 27" long. Both Bill's stone & the PVSG example are (IMO) much better seated on a daiza rather than a water tray (apologies to the PVSG owner). Your friend Doug Mudd appears to have fit the daiza closely (VERY NICE!), Bill-- thanks for sharing his work!
PVSG member's stone...

Chris Cochrane

Member





Hi Chris thanks for your very Knowledgeable reply it good to read such detail and my friend Doug will be pleased with your comments. Regards Bill

Bill G

Member






---
Permissions in this forum:
You
cannot
reply to topics in this forum